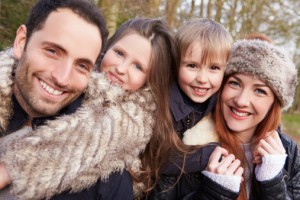 You work hard every day to ensure that your family is happy and healthy. At Smile Care Family Dentistry, we see it as our duty to keep every smile in your family safe from common oral health concerns, including cavities, injuries, gum disease, and more. With our extensive range of family dentistry services, Dr. Asra Javeed and our entire team keep the smiles of Virginia Beach, VA families looking and feeling their best.
A Family Dentist in Virginia Beach, VA Who Truly Cares
Dr. Javeed understands that each and every one of her patients has unique needs, and she is committed to providing the families in Virginia Beach communities with exceptional oral healthcare every day. That is why she always takes the time to get to know her patients and their families, listening to their expectations and goals before recommending treatment. When you visit Smile Care Family Dentistry, you'll receive quality family dental care that is personalized, gentle, and effective, all within a warm and inviting environment.
To keep every member of your family in top oral health, Dr. Javeed offers a comprehensive menu of preventive dentistry solutions, including:
Routine checkups, including exams and thorough cleanings
Dental sealants to protect teeth from decay
Fluoride supplements to bolster enamel strength
Oral appliances for sleep apnea
Whatever you need to keep your teeth and gums healthy for life, you'll find it at Smile Care Family Dentistry. Our team isn't satisfied until you and your family feel that you've received top-level care at every one of your visits to our office.
Quality Family Dental Care in Virginia Beach, VA
If it has been more than six months since your last general dentistry checkup, schedule an appointment with the family dentist Virginia Beach patients have grown to trust: Dr. Asra Javeed at Smile Care Family Dentistry. Experience our state-of-the-art technology and passion for excellent patient care every time you step into our office. We are proud to serve families from Virginia Beach, VA and the surrounding areas, including Norfolk, Chesapeake, and beyond.