Dentures – Virginia Beach, VA
Complete Your Smile with a Lifelike Prosthetic
Did you know roughly 40 million American adults are missing all their teeth? So, if you have an incomplete smile, you're certainly not alone. Fortunately, Dr. Javeed offers three great denture options to help you restore your smile's appearance and functionality: partial, full, and implant dentures. If you're ready to take the next step toward a full, healthy, beautiful smile, contact our dental office today to learn more about dentures in Virginia Beach, VA!
Why Choose Smile Care Family Dentistry
for Dentures?
Digital Impression Technology for a Precise, Comfortable Fit
Experienced and Compassionate Clinician Takes Care of You
Dental Insurance-Friendly Dental Office
Partial Dentures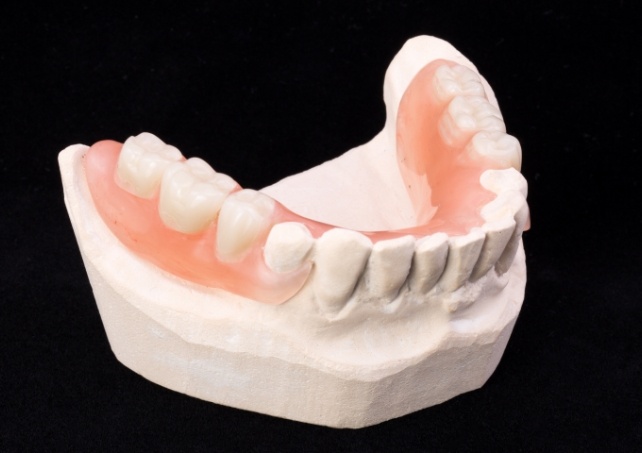 If you are missing multiple teeth in a single row, but still have a few of your natural ones intact, then partials are the ideal tooth replacement solution for you. By securing your lifelike, prosthetic teeth onto a gum-colored acrylic base, this tooth loss solution can fill the gaps in your smile while simultaneously supporting your existing teeth. Plus, the metal framework discreetly clasps onto your teeth for maximum durability and minimal movement. You have metal free options to choose from too.
Full Dentures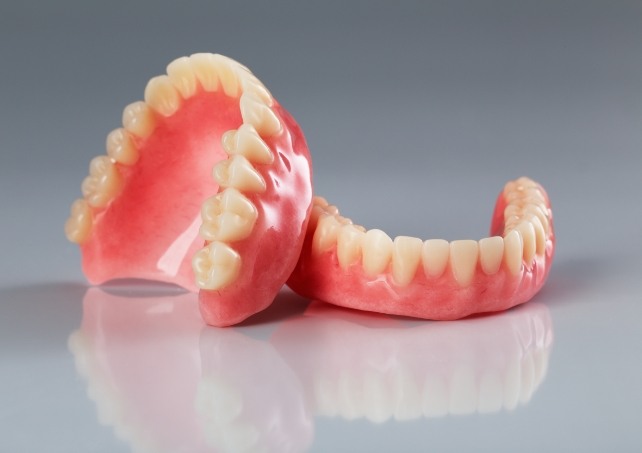 Full dentures are similar to their partial counterpart since they are also removable, life-like, and durable. However, they are distinct in that they are designed to help patients who are missing an entire arch of teeth. They are held in place by a combination of natural suction and a special adhesive, allowing you to chew, laugh, and talk with full confidence.
Dental Implant Dentures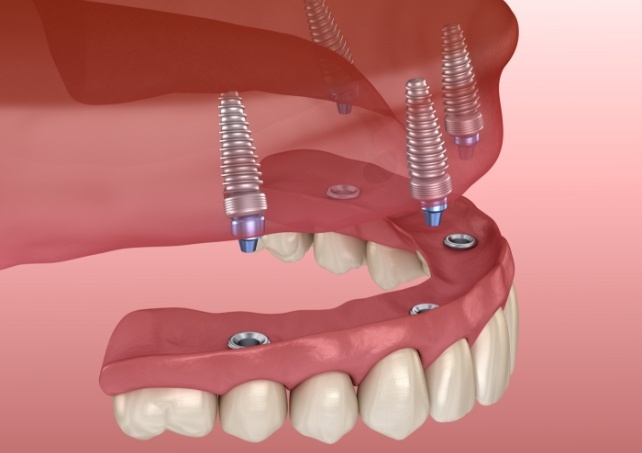 The third option for patients struggling with tooth loss is implant dentures. This state-of-the-art tooth replacement option restores both your missing teeth and your missing roots, ensuring results that look and feel more natural.
Maintaining Dentures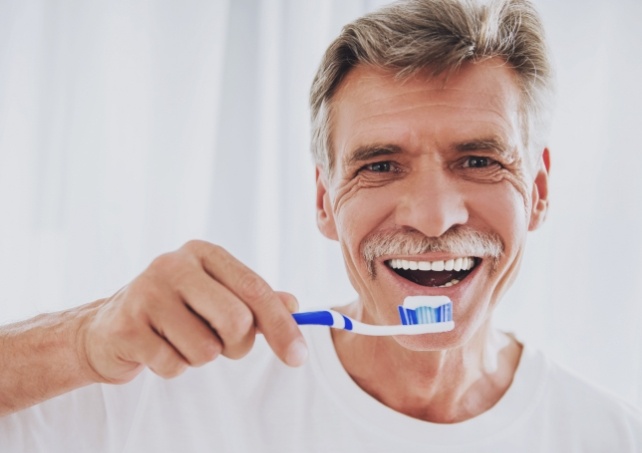 While your dentures are cavity-resistant, they aren't indestructible. To keep them in tip-top shape, there are a few best practices you should follow, starting with a solid oral hygiene routine. By brushing them daily with a non-abrasive toothpaste and denture-friendly toothbrush, you can keep them clean of harmful oral bacteria and plaque. You should also rinse them with lukewarm water and soak them in a cup of special cleaning solution to prevent them from warping. Lastly, make sure to continue to care for any remaining teeth you have and be consistent with your professional checkups and cleanings with our dentist every six months.
Understanding the Cost of Dentures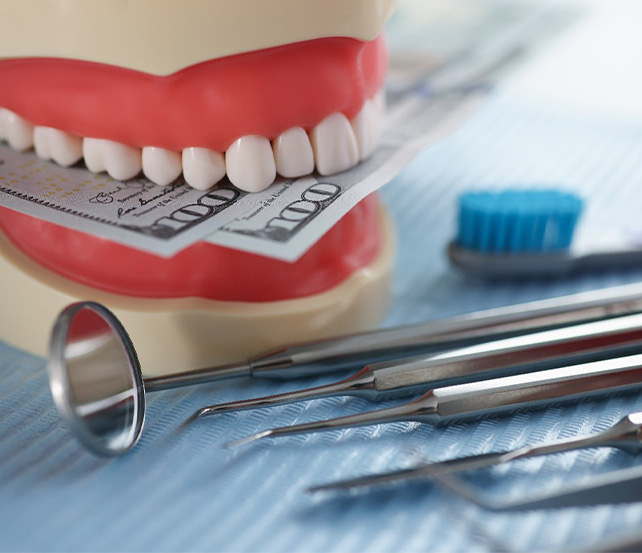 Dentures are typically the least expensive tooth replacements. Even so, you might worry that their price will be too high. (A treatment won't help if it exceeds your budget.)However, the cost of dentures actually varies by patient. You'll need to visit with Dr. Javeed to get an exact estimate. Once you have, we at Smile Care Family Dentistry will strive to make your care affordable. Our team will even walk you through denture cost factors and some available payment options.
Factors That Affect the Cost of Dentures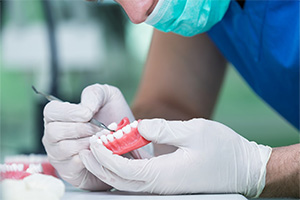 At the initial consultation, Dr. Javeed will perform an oral exam. This step lets her (among other things) assess factors related to your dentures' cost. Such things include the following:
Whether You Need Prep Work – Before you get dentures, you might need a root canal, tooth extraction, etc. In that case, treatment costs will rise.
Denture Base Material – A denture's base can be made with more or less expensive acrylic.
Replacement Teeth Material – Based on whether they're acrylic or porcelain, a denture's replacement teeth can vary in price.
Even as our team explains these factors, remember: the cheapest dentures aren't ideal! For longer-lasting results, you ought to choose practical and high-quality prosthetics!
Are Implant Dentures More Expensive?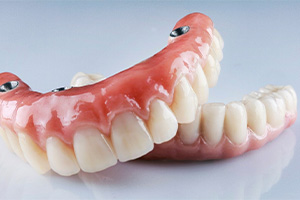 In terms of upfront cost, implant dentures are pricier than standard ones. That said, their benefits are well worth the added expense.
You see, implant dentures have a unique placement method. They secure themselves with dental implants – restorations that fuse with your jaw. In doing so, they stay steady and don't slip or fall over time. The result is that your new teeth look and act like natural ones.
Furthermore, these dentures pay off in the long run. Their implants last 15-20 years on average, requiring few repair and replacement fees. In contrast, standard dentures have a lifespan of 5-7 years and require many follow-up visits.
Does Dental Insurance Cover Dentures?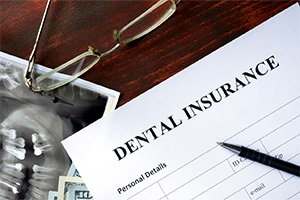 As it happens, yes – dental insurance does typically cover dentures. The latter treatment is considered a major one, so most plans cover 50% of its cost.
Of course, there are exceptions to every rule. Perhaps your own insurance policy limits its denture coverage. Given that possibility, confirm your plan's benefits before choosing treatment. Our office would be happy to assist if you like.
Other Options for Making Dentures Affordable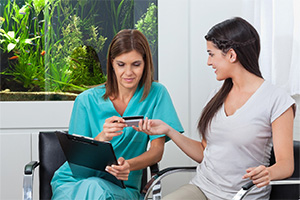 Whether you have it or not, insurance isn't the only way to make dentures affordable. You can always consider other ones! In particular, you can look at your dental practice's payment options. The right type would let you cover dentures' costs smoothly.
Just look at our own Smile Care Family Dentistry, for example. Our team works with CareCredit – a reputable third-party financier. By relying on them, you can pay for dentures with monthly low-interest installments. This approach lets you cover the cost gradually instead of all at once.
In the end, we'd love to provide you with beautiful dentures that fit your budget. Therefore, go ahead and book a consultation at our office soon!