Dental Crowns – Virginia Beach, VA
A Dependable Solution for Damaged or Decayed Teeth
Do you have a tooth that has sustained major damage or decay? Restorative dentistry is the answer to help you recover a healthy smile. Specifically, dental crowns provide a trusted solution for damaged or decayed teeth. At Smile Care Family Dentistry, we use tooth-colored porcelain or ceramics to ensure the most natural-looking result without sacrificing durability. Contact our team to schedule a consultation!
Why Choose Smile Care Family Dentistry For Dental Crowns?
Dental Insurance Covers Crowns 50-75 Percent
Tooth-Colored Porcelain Results In Improved Esthetics
Custom Restorations To Meet Your Unique Needs
What Is a Dental Crown?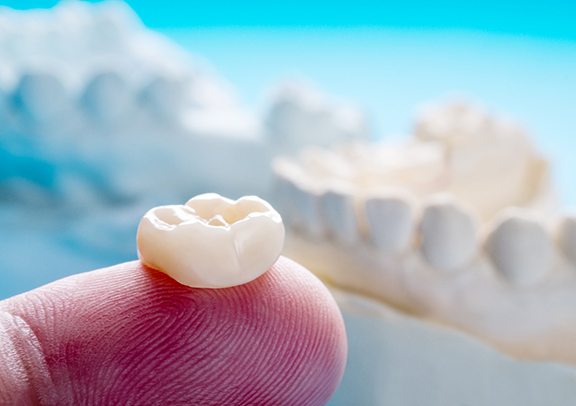 A dental crown is a customized cap placed on top of a damaged tooth. It is used to protect, cover, and restore the shape of your tooth when a filling will not solve the problem. Dental crowns can be made of a variety of materials, but porcelain is a popular choice for its natural appearance. They typically do not require special care over time other than good oral hygiene.
The crown restores the tooth's shape, size, strength, and appearance. There is an array of potential reasons you might need a dental crown, such as protecting a weak tooth from breaking, restoring a broken tooth, holding a dental bridge in place, covering a dental implant, shielding a tooth that's been treated with a root canal, and covering a tooth that is misshapen or discolored.
The Process of Getting Dental Crowns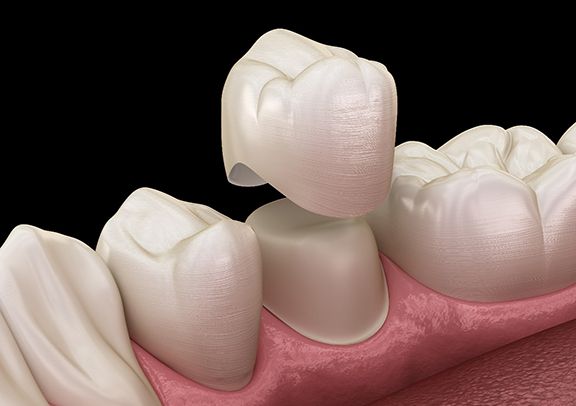 You will typically have two appointments to get dental crowns in Virginia Beach. During the first visit, the tooth that's going to receive the crown is examined and prepared. X-rays are taken of the tooth and the bone around it.
Once your dentist determines that you do not need a root canal before your crown procedure, they will file the tooth down across the top and sides to create space. The amount of tooth filed depends on the type of crown you are getting. If too much of your tooth is missing, a filling material can be used to build sufficient tooth structure.
Then, an impression is made of the tooth receiving the crown and the tooth below it so as not to affect your bite. The impressions are sent to a lab and in the 2-3 weeks to follow, you will wear a temporary crown prepared by your dentist in Virginia Beach. On the second visit, the temporary one is removed, and your permanent crown is cemented in place!
The Benefits of Dental Crowns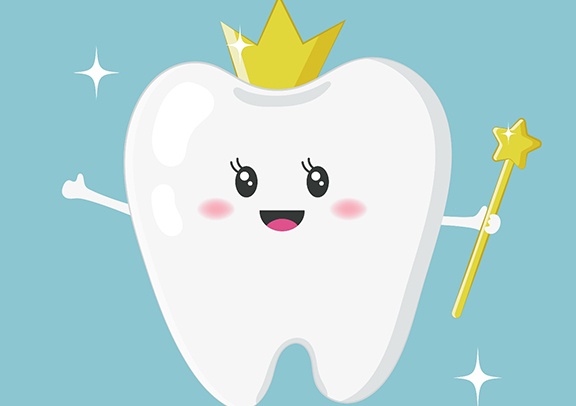 The primary benefit of a dental crown is that it can restore your damaged or broken tooth to full function. But that's just the tip of the iceberg. A crown can improve your appearance since it matches the color and texture of other teeth. If your teeth have changed over the years due to nighttime grinding (bruxism), crowns and a nightguard can revitalize and safeguard your smile.
If you require a large filling or a root canal, a crown can provide strength and protection for that tooth. A crown can add stability to a dental bridge while protecting surrounding teeth. Also, consider that a dental crown can last 5-15 years and perhaps more depending on the material and your oral hygiene habits, plus getting one is a relatively simple process as mentioned above.
Dental Crowns FAQs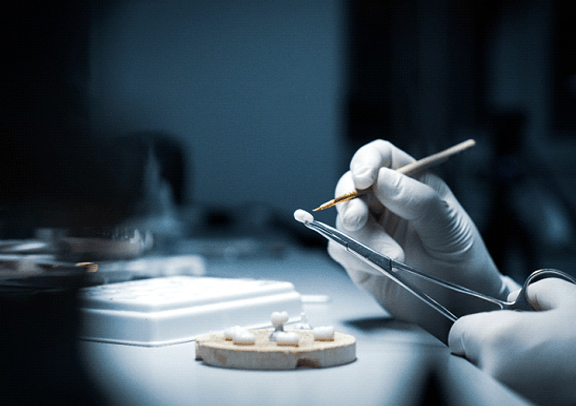 Interested in getting a dental crown from a restorative dentist in Virginia Beach? From improving your appearance to protecting your tooth and offering durability, there's a lot to like about adding a crown to your smile. At Smile Care Family Dentistry, we'll go over all the details of this choice during your consultation so you can feel confident in your decision. Before you even sit down with one of our dentists, keep reading to check out some frequently asked questions from our patients about dental crowns.
Do Dental Crowns Get Cavities?
While it's technically impossible for a crown to develop a cavity, the tooth underneath it still could. A crowned tooth has a similar risk of decay compared to an uncrowned one. Poor oral hygiene makes it possible for bacteria and plaque to form where the tooth meets the crown; if they spread underneath the crown, it could mean major trouble for the tooth. Cavity prevention for crowned teeth is the same method as uncrowned – daily brushing and flossing with regular checkups and cleanings.
Does It Hurt to Get a Dental Crown?
Your dentist numbs the tooth they need to work on when you get a crown. That usually means a topical anesthetic, but if you have severe anxiety, they may use dental sedation. Of course, they'll check to see what you prefer. After your tooth is prepped for a crown, it may be sensitive for a few days, particularly if you also had a root canal. Since a crown protects a vulnerable tooth from damage, in the long run, it will likely prevent pain instead of causing any!
What Happens If You Wait Too Long to Get a Dental Crown?
Waiting too long to get dental crowns in Virginia Beach can have some detrimental consequences on your oral health and your wallet. For example, if the root of the problem is decay, the infection can continue to delve deeper into the tooth, increasing your risk of needing a root canal or an extraction. Therefore, it's always best to schedule the procedure sooner rather than later.
What's the Difference Between a Temporary Crown and a Permanent Crown?
As you might expect, a temporary crown is not meant to last a long time – just a few weeks while your permanent crown is fabricated in a lab. Temporary ones are made from inexpensive materials like acrylic or composite resin. They are bonded with weak cement, so removal is easy when it's time for your permanent crown to be placed. Your permanent one will be bonded with stronger cement and made of more durable materials like gold, silver, porcelain-bonded-to-metal, or ceramic to withstand chewing and biting pressure for at least 5-15 years. (We use porcelain.)