Preventive Dentistry – Virginia Beach, VA
Helping Patients of All Ages Maintain Healthy Smiles
Good oral health starts with routine care. That means spending some time everyday brushing and flossing. But more than that, it means seeing us at least twice a year for regular checkups and cleanings. Appointments like these are important for creating and maintaining a healthy smile. At Smile Care Family Dentistry, we recommend seeing Dr. Asra Javeed and our Dental hygienists for routine visits at least twice a year. During your checkups, we take the necessary X-rays, do an oral cancer screening, perform a comprehensive dental checkup, which includes measuring your gums to screen for periodontal disease followed by a professional dental cleaning, by our hygienist. Keep reading to learn more about preventive dentistry in Virginia Beach, VA.
Why Choose Smile Care Family Dentistry
for Preventive Dentistry?
Our Gentle Team Helps Nervous Patients Relax
Military Families & LGBTQ+ Patients Welcome
Insurance-Friendly Dental Office
Dental Cleanings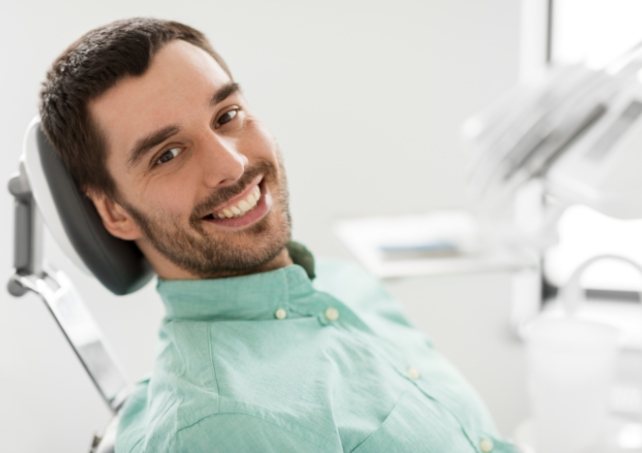 Even patients with the best brushing and flossing routine can benefit from two professional cleanings a year. During your cleaning, our hygienist will help you remove leftover bacteria and plaque from your teeth and your gum line. Bacteria and plaque are the primary causes of two very common oral health problems–tooth decay and gum disease. Our goal with a professional dental cleaning is to offer your smile better protection in between appointments. We may also use your cleaning visit to recommend some ways you can improve your homecare routine.
Dental Checkups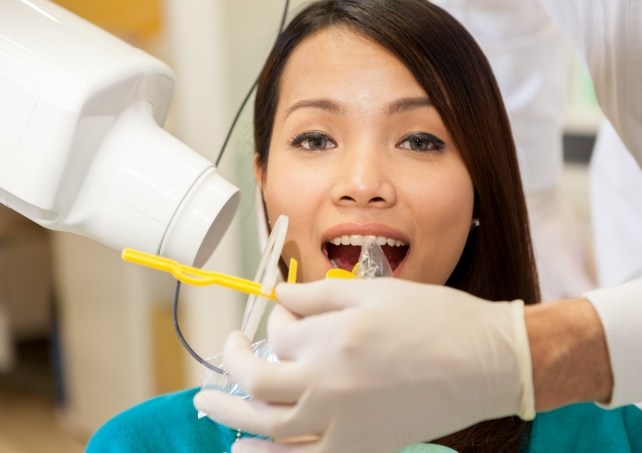 Following your cleaning, Dr. Javeed will perform a thorough exam to assess your dental health. During your exam, she will look for signs of decay, gum disease, teeth grinding, other forms of wear and even oral cancer. The purpose of a dental exam is to diagnose any serious issues as early as possible so they can be treated conservatively. We want to make as few changes to your smile as possible.
If we find anything during your appointment, Dr. Javeed will explain the course of treatment, answer all your questions and help you understand all of your treatment options. We want to guide you to the solution that is the absolute best for you. If you have questions about the service(s) we recommend, we would be happy to answer them for you. We're committed to helping you understand your needs and find a way to effectively address them.
Oral Cancer Screenings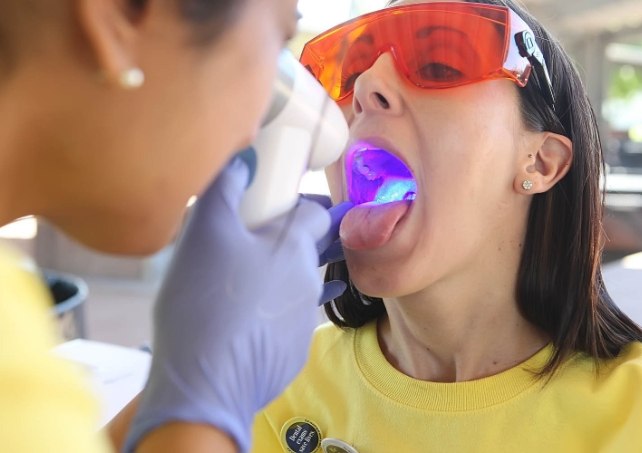 Did you know that one American dies from oral cancer every hour? Early detection can help sufferers find necessary treatment sooner rather than later, but many adults ignore or are unaware of the need for this important preventive step. Dr. Javeed can perform an oral cancer screening alongside your regular checkup and cleaning. During the exam, she'll check your mouth for any signs that could indicate cancer, like bumps, swollen areas, or rough, discolored patches.
Learn More About Oral Cancer Screenings
Fluoride Treatment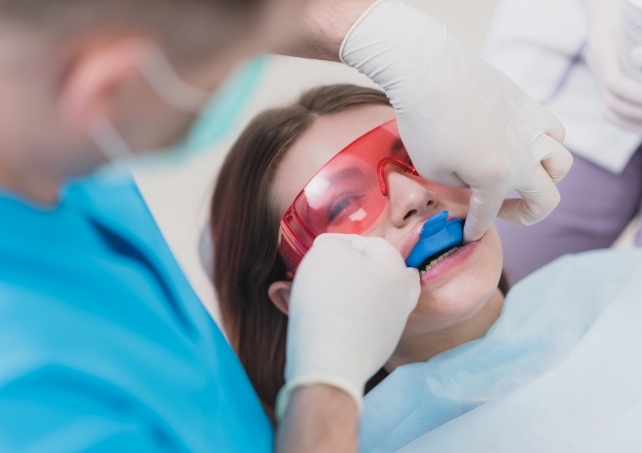 Fluoride is a naturally occurring mineral that is added to your toothpaste, mouthwash, and even public water sources. Research has shown that regular exposure to fluoride can significantly lower the risk of tooth decay, especially in kids. That's why, in addition to recommending fluoridated oral hygiene products, we can apply a concentrated fluoride varnish after each of your routine cleanings. This process takes just a few seconds, and it strengthens your tooth enamel to reduce your risk of cavities until your next appointment.
Athletic Mouthguards/ Sportsguards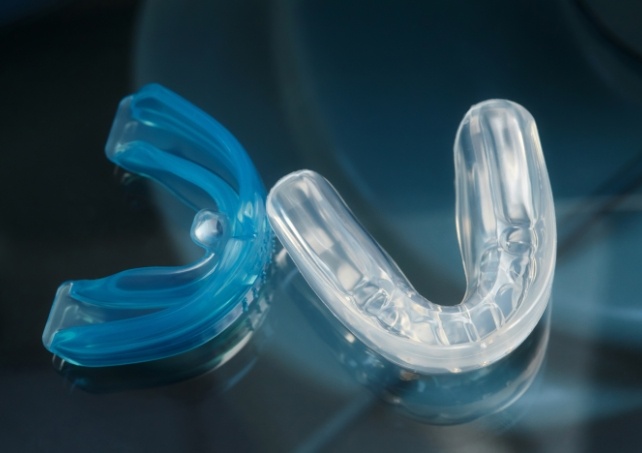 Don't neglect to protect your (or a loved one's) smile from the unexpected! Smile Care Family Dentistry can fit you with a custom mouthguard to prevent damage from trauma while you're participating in sports. These customized, small devices make a real difference in maintaining a healthy, whole smile when they are used as directed.
Learn More About Athletic Mouthguards/Sportsguards
Nightguards for Bruxism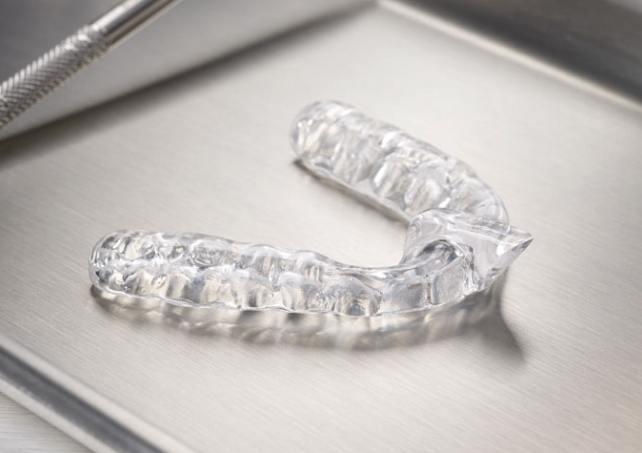 Do you often wake up with a sore jaw or headaches? Do your teeth look flat or worn-down? If so, you might have a condition called bruxism, which causes you to clench and grind your teeth while you sleep. Over time, bruxism can weaken your tooth enamel, leading to sensitivity and an increased risk of breakage. Fortunately, Dr. Javeed can shield your smile by crafting you a custom fit nightguard. This comfortable oral appliance fits over your teeth to protect against harmful contact during slumber.
Learn More About Nightguards for Bruxism
At-Home Dental Hygiene Products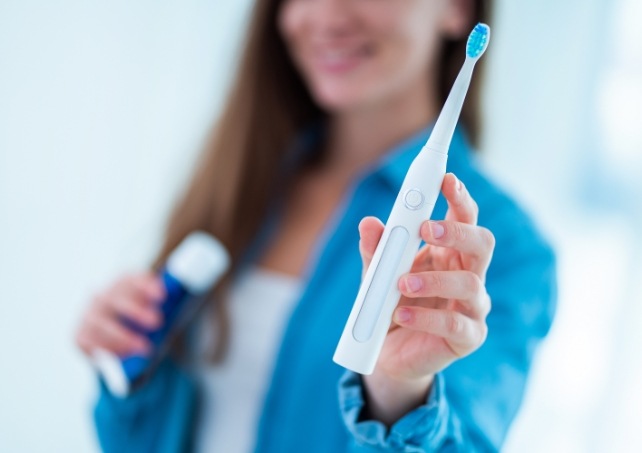 When you walk down the oral care aisle of your local pharmacy, it's all too easy to feel overwhelmed by the sheer number of choices available. Because Dr. Javeed knows the details of your smile, she can help you make the right decision as to which type of toothpaste, mouthwash, floss, and other dental hygiene products would best suit you. Depending on your oral health needs, she can even prescribe certain products that aren't available in stores.
Children's Dentistry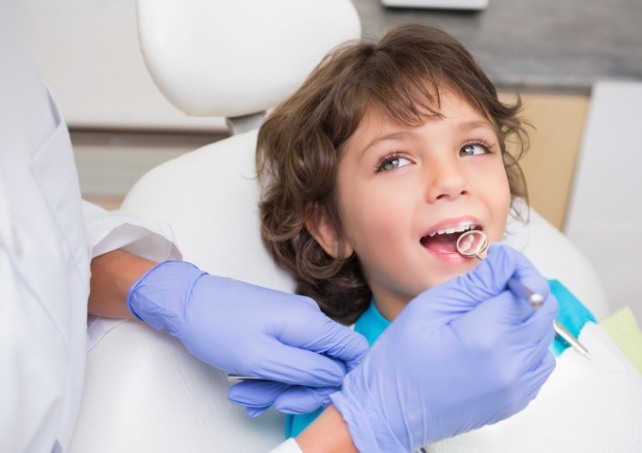 Kids have their own unique dental needs, and we provide multiple services to meet those needs and help them develop the habits they need to maintain a healthy smile for life. We also strive to make your child's appointments as kid-friendly and comfortable as possible. To that end, we can give them fun stickers or excite them with the toys they can pick out of our treasure chest. We'll do whatever it takes to make sure your little one feels comfortable while getting the care their smile needs!
Learn More About Children's Dentistry

Preventive Dentistry Frequently Asked Questions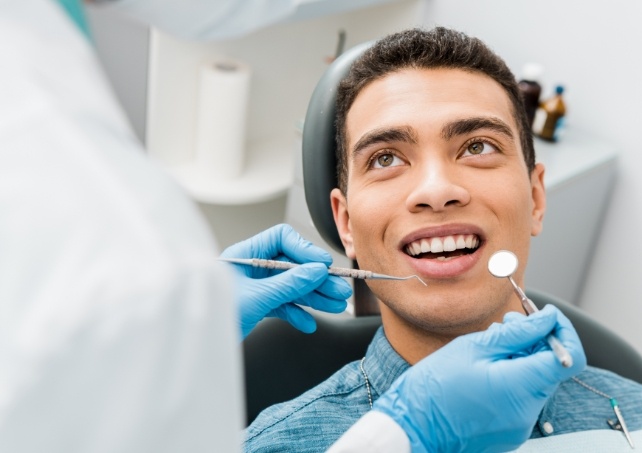 As a dentist in Virginia Beach, we focus on prevention to help you avoid dental problems rather than having them treated. And one of the best prevention tools we recommend for our patients is getting a checkup and cleaning regularly. Keep reading below for answers to the most common FAQs we hear on preventive services and feel free to contact us if you have any other questions!
How often should I get a checkup and cleaning?
For patients with healthy gums, coming in every 6 months is usually all that's necessary. However, there are exceptions such as patients with diabetes or during pregnancy when more frequent cleanings can be beneficial.
Also, patients with gum disease usually need cleanings every 3 to 4 months, which allows us to maintain the progress made from their initial gum treatment and prevent the disease from getting worse. This not only lowers your risk of tooth loss, but also many other conditions (e.g. heart problems, stroke, diabetes, etc.) that are associated with gum disease.
When should I schedule my child's first checkup?
The American Dental Association recommends a checkup around the first birthday or within 6 months of the first tooth coming in. These early visits are much less involved than adult visits and won't include a cleaning or X-rays until around 3 to 5 years of age.
In many cases, toddlers do great by sitting on a parent's lap as we examine their teeth and jaws. After we've made sure everything is developing normally, we'll give you valuable information about your child's oral health and how you can prevent cavities and other problems from the start.
Why are routine appointments to the dentist so important?
Our goal is to help you maintain a healthy smile and keep your dental work to a minimum. If you only come in to see us when you're in pain, we often have to do more extensive treatment than we would have otherwise. By getting regular checkups and cleanings, we can find cavities, gum disease, and other issues before they've progressed (when treatment is easier and less expensive).
A great example of this is a small cavity that isn't causing pain yet. When we're able to find it early on with routine X-rays, it can usually be treated with a simple filling instead of a dental crown or root canal.
Why do I need X-rays?
X-rays allow Dr. Javeed to see areas that she can't see with her eyes alone, including underneath your existing dental work, in between your back teeth, around the roots of your teeth, and in the jawbone. That enables her to find small cavities that aren't causing pain yet, signs of gum disease such as bone loss around the roots, and cysts, infections, and tumors.
Most patients need routine bitewing X-rays annually or at every other checkup (with a comprehensive set of X-rays every 3 to 5 years). However, you may need additional X-rays to evaluate a specific area if you're having unexplained pain or sensitivity.