Cosmetic Dentistry – Virginia Beach, VA
Show the World a Confident, Attractive Smile
If you wish you had a whiter, more vibrant smile, you're not alone. Every year, others just like you are seeing their dreams come true thanks to cosmetic dentistry. With today's most popular cosmetic services, dentists like Dr. Asra Javeed are able to help patients create smiles that look whiter and straighter. As a result, patients who used to hide their teeth behind their lips are finding the confidence to smile more openly. Studies have shown that when people smile with confidence, they're perceived as more attractive, outgoing, and intelligent. Why not join the many people who are improving their confidence and wellbeing each year by learning more about cosmetic dentistry in Virginia Beach, VA?
Why Choose Smile Care Family Dentistry
for Cosmetic Dentistry?
Relationship-Based, Highly Personalized Dental Care
Digital Imaging for Precise Treatment Planning
We Can Easily Help Anxious Patients Relax
Porcelain Veneers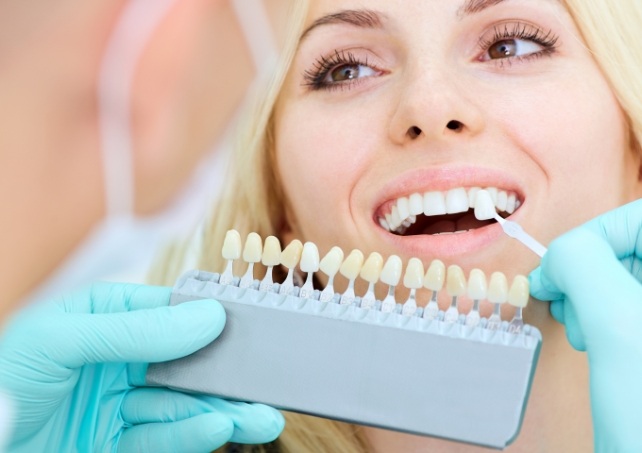 Veneers are a transformative solution for teeth that have been affected by a number of imperfections. Chips, cracks, slight gaps, misshapen teeth, and staining can all be forgotten with these thin porcelain coverings that instantly transform the size, shape, and color of damaged teeth. They're ultra-thin sheaths of porcelain bonded directly onto the surface of the teeth that show when you smile, and they can be expected to last 10 to 15 years after application.
Zoom! Teeth Whitening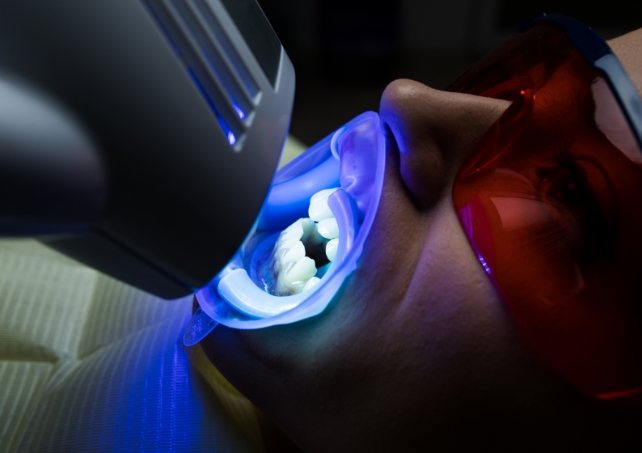 If you've noticed your teeth looking a little dingy or discolored as a result of age, you're not alone. There's no way to prevent this natural darkening of tooth enamel, but you can reverse it with professional teeth whitening. Smile Care Family Dentistry offers custom-fit, professional-strength bleaching kits you can use from the comfort of your home. With a 30-minute treatment every night for two weeks, you'll be flashing your most dazzling smile in practically no time.
Learn More About Teeth Whitening
Metal-Free Dental Restorations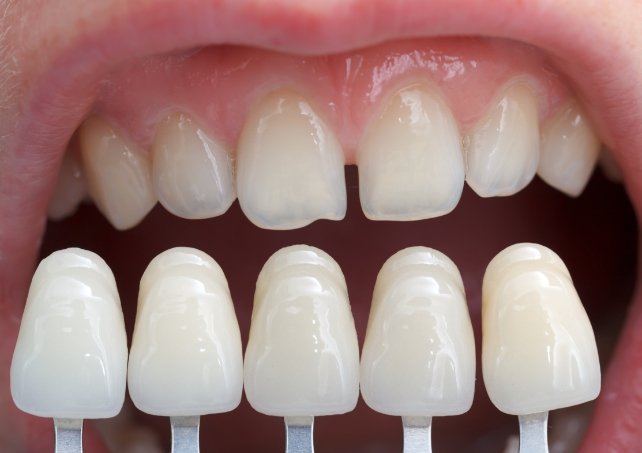 When a tooth that's front and center in your smile needs repair, we won't use a metal filling or crown that would stick out like a sore thumb. Instead, we use metal-free dental restorations created from tooth-colored materials like porcelain and composite resin. These solutions are designed to mimic your natural pearly whites exactly. Once Dr. Javeed has restored your tooth, it should be indistinguishable from the rest of your smile!
Dental Bonding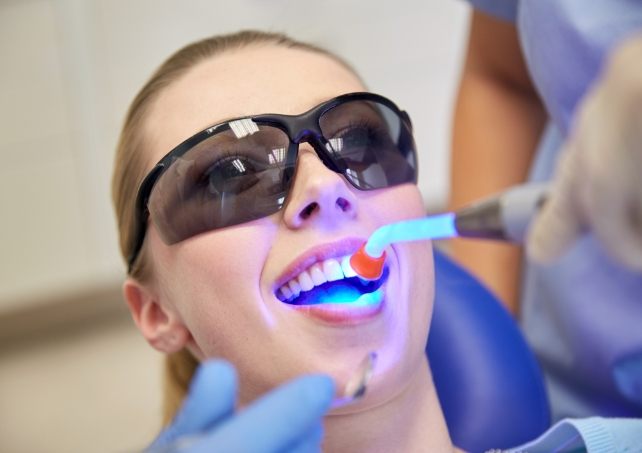 For a quick and affordable way to fix small flaws in your teeth, consider direct bonding. Dr. Javeed can apply a natural-looking composite resin to your tooth and sculpt it to cover stains, cracks, chips, and even small gaps. The procedure is completely painless and can be finished in as little as one hour. Your results will look seamless and can last for a decade with the right care.
Digital Imaging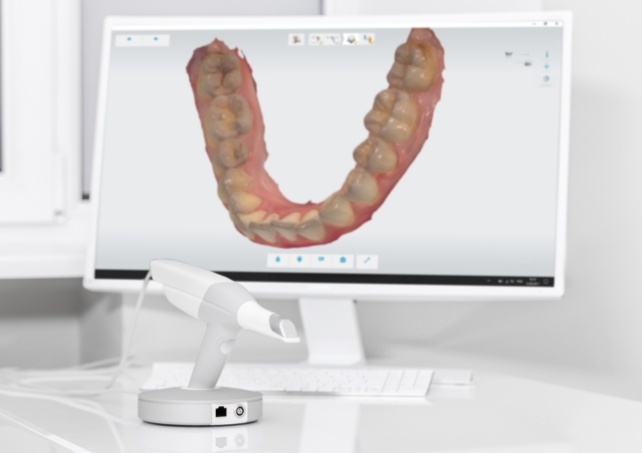 At Smile Care Family Dentistry, we're committed to providing personalized care. To help with that, we utilize digital imaging. With the digital imaging, we can capture clear, detailed images of your smile, which we'll use to create your personalized treatment plan.
A visual exam can only reveal so much about your needs. Today's digital tools give us a clear look at your teeth and gums, and they make it possible for us to create a precise, detailed treatment plan.
Before starting your procedure, we'll explain your treatment plan in detail and give you a clear idea of the results you can expect. Knowing what to expect from your treatment will increase your confidence and comfort. If you have any questions about the plan we recommend, we will be happy to answer them.
Understanding the Cost of Cosmetic Dentistry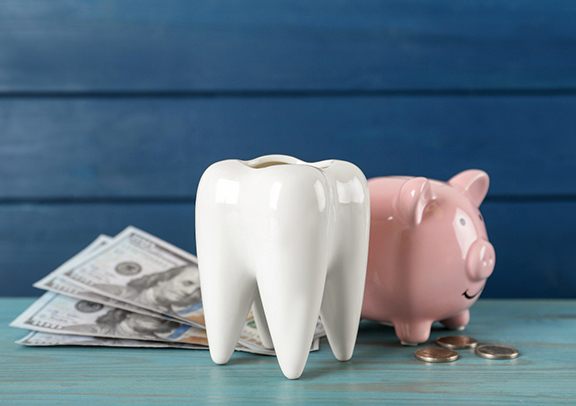 Even if you want it, you may worry you can't afford cosmetic dentistry. Its procedures, after all, usually aren't covered by dental insurance. That said, the cost of cosmetic dentistry actually varies by patient. You'll thus need to consult Dr. Javeed for a treatment estimate. Still, you can trust Smile Care Family Dentistry to navigate your expenses and find options suited to your needs. To learn more about that process, keep reading or call us for the details.
Which Cosmetic Dental Service is Right for Me?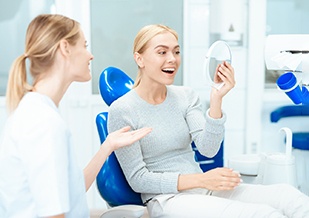 When trying to beautify your grin, you're likely looking for three possible results: Whiter teeth, straighter teeth, or differently shaped teeth. Still, our office's cosmetic services have varying costs and effects. As such, it'd be best to let our team explain your choices during the consultation visit. These options will probably include the following:
Zoom! Teeth Whitening – By using a special gel, teeth whitening removes stains from the enamel. It's also relatively fast and mid-range in cost. However, this option only affects tooth color – it won't change tooth position or shape.
Dental Bonding – Dental bonding applies a tooth-colored resin that covers minor smile flaws. In doing so, it'll hide issues like tooth stains and chips. Just remember, though, that its results don't last long. (The applied resin has a lifespan of only a few years.)
Metal-Free Restorations – These fillings and crowns blend naturally with your smile due to their tooth-colored materials. In exchange for their looks and protection, though, they tend to be pricey.
Porcelain Veneers – Veneers are thin, porcelain shells placed on the fronts of teeth. Dentists use them to hide a patient's smile flaws – things like chips, cracks, stains, etc. Such versatility makes them highly effective but also rather expensive.
Cosmetic Dentistry Can Be an Investment Worth Making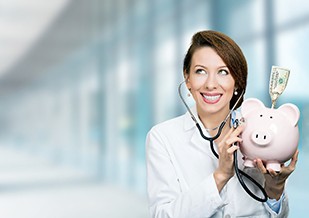 Cosmetic dentistry can, at times, involve a large financial commitment. However, its procedures are nonetheless great investments that pay off over time.
In particular, these services offer priceless perks for patients anxious about their smiles. One is increased confidence, as your transformed teeth inspire a better body image. That improved attitude can then lead to better relationships, better social life, and better professional achievements. Ultimately, you can expect the final result to be a better quality of life!
How to Make Cosmetic Dentistry Affordable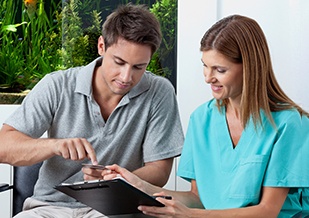 True, dental insurance won't usually cover cosmetic dentistry. That said, we at Smile Care Family Dentistry have other ways to make its services affordable. Consider those below:
Special Offers – Currently, our office is running a cosmetic special. For only $250, you can get a take-home teeth whitening kit!
Flexible Financing – Our office works with CareCredit, letting patients cover costs with low-interest, monthly installments. As a result, you could pay for a cosmetic treatment gradually instead of all at once.
If what you've read so far interests you, find out more by booking a visit with us! Dr. Javeed and her team will happily brighten your smile in a budget-friendly way.
Cosmetic Dentistry Frequently Asked Questions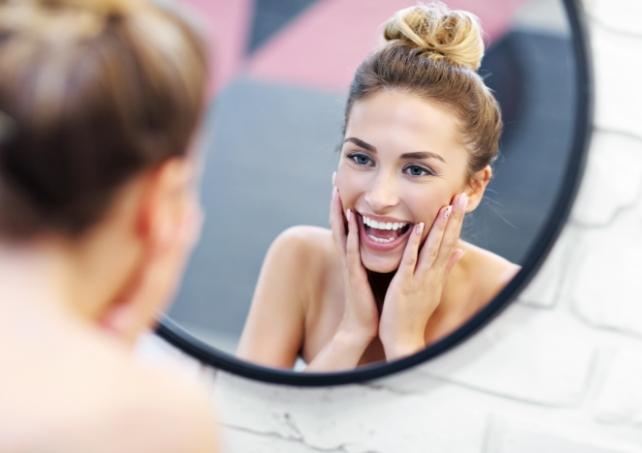 As a cosmetic dentist, Dr. Asra Javeed is more than happy to help you achieve the beautiful smile you've been dreaming of. Using cosmetic dentistry, she can improve the size, shape, color, and proportion of your teeth to give you a smile you can't wait to show off to the world. However, it's perfectly understandable to have a few questions before you undergo any treatment. That's why we've taken the time to answer some of our most frequently asked questions about cosmetic dentistry.
Will my dental insurance cover cosmetic dental treatments?
In the majority of cases, dental insurance carriers will not cover the cost of cosmetic dentistry because they are often deemed as purely elective treatments. However, there are some exceptions. For example, certain restorative procedures, like porcelain crowns, toe the line between restorative and cosmetic dentistry. As a result, your insurance may cover this treatment if it is deemed necessary to restore or improve your oral health. Depending on your individual policy, it may cover up to 80% of the cost.
Is cosmetic dentistry right for my teen?
We know that teenagers can be especially self-conscious about their image, and we want to ensure they have a smile they can be proud of. That's why, after a consultation, we may determine that cosmetic dentistry is just what your teen needs. Some procedures, like cosmetic bonding, may even benefit younger children, depending on their specific needs.
How long will my treatment take?
There is no set answer to this question because the length of time varies based on which treatment you're undergoing. With teeth whitening, for example, it may take up to two weeks of using the trays before you achieve the results you desire. Porcelain veneers, on the other hands, instantly transform your smile once they are placed, but you'll have to wait a few weeks for your veneers to be custom shaded and custom made. At your consultation, Dr. Javeed will outline a detailed treatment timeline based on your smile goals.
Am I a good candidate for cosmetic dentistry?
If you are not satisfied with some aspect of the teeth you see smiling back at you in the mirror, you may benefit from cosmetic dentistry. Generally, you are eligible for procedures like veneers or teeth whitening if your smile is free from infections like cavities or gum disease. If we detect any of these issues, we'll have to address them prior to going through with cosmetic treatment.