Dental Implants – Virginia Beach, VA
Lifelong & Lifelike Tooth Replacements
If you have one or more teeth you need to replace, we can help you achieve great results with dental implants. As one of the most versatile restorative services currently available, dental implants can be used to support a single crown, a bridge, a partial, or a full denture. As a result, a growing number of patients are choosing dental implants over more traditional restorative services, creating smiles that look and feel natural. Don't let missing teeth have a negative effect on your oral health and self-confidence. Let Dr. Asra Javeed and the experienced staff at Smile Care Family Dentistry talk to you about treatment with dental implants in Virginia Beach, VA.
Why Choose Smile Care Family Dentistry
for Dental Implants?
Partnered with the Best Dental Implant Specialists in Virginia Beach
Fair Prices with Zero Hidden Fees
Energetic Dentist & Team Who Listen to Patients' Needs
What are Dental Implants?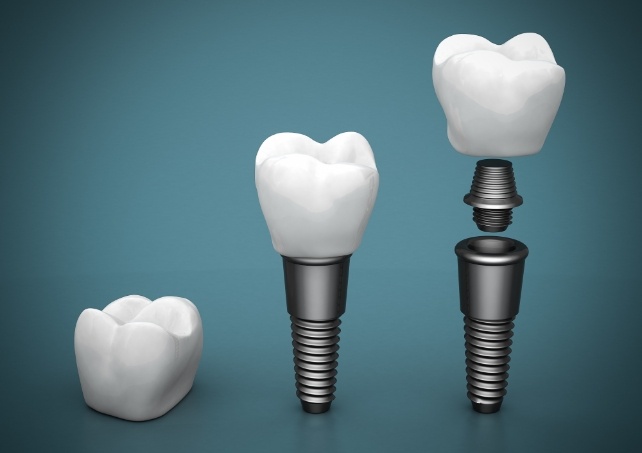 A dental implant doesn't exactly look like what you'd think of when you picture a replacement tooth. That's because a dental implant is an artificial tooth root that recreates the part of the tooth hidden beneath the gumline. After the implant (made of biocompatible materials like titanium) is surgically placed in the jaw, it fuses to the bone tissue. This allows dental implants to support any number of replacement teeth with a foundation that is stable and long-lasting.
The 4-Step Dental Implant Process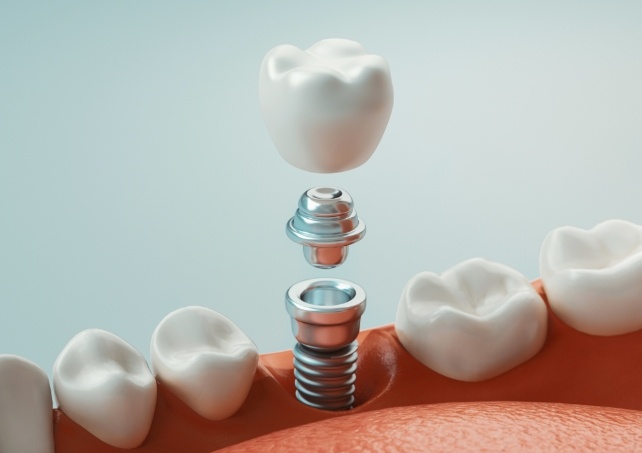 Dental implant treatment is more complex than that of traditional dentures or dental bridges, but for good reason. Once your new teeth have been placed, you'll enjoy a new smile that looks and feels like you never lost any teeth at all!
Dr. Javeed partners with a network of dental implant experts in the area to ensure your treatment is of the highest quality. Each patient's journey is a bit different, but they all include the same four basic steps:
Initial dental implant consultation – First, Dr. Javeed examines your mouth and determines whether you're eligible for dental implants.
Dental implant surgery – You're referred to a specialist, who surgically positions the implant posts in your jawbone.
Dental implant osseointegration/abutment – The implants merge with your jawbone. Then, metal connectors called abutments are installed on top of the implants.
Delivery of dental implant restoration(s) – Finally, we secure your custom dental crown, bridge, or denture onto your abutments.
Benefits of Dental Implants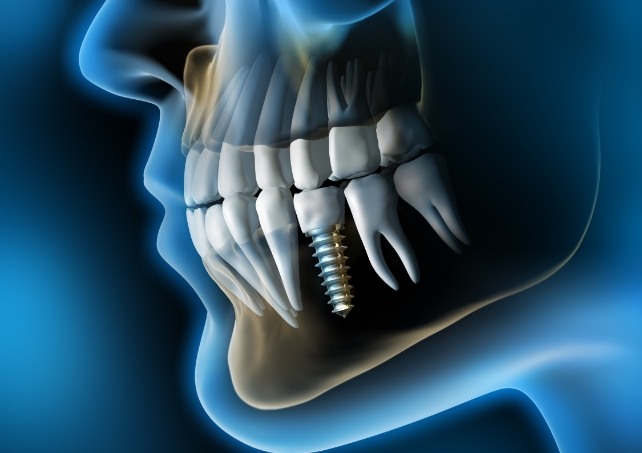 What makes dental implants such an effective alternative to traditional bridges and dentures? It has a lot to do with the way dental implants are structured. Instead of just replacing your missing tooth (or teeth), dental implants also replace your missing tooth root(s). By mimicking this natural structure, you can look forward to enjoying stronger, more stable results than is possible with a traditional bridge, partial, or full denture. The result is a smile that looks, feels, and functions just like your natural teeth.
The beauty of dental implants is that they can preserve and strengthen the jaw by promoting bone growth the way natural roots do. This prevents you from jawbone deterioration, additional tooth loss, and a sunken facial appearance. Plus, with proper care, dental implants can last for a lifetime!
Who Dental Implants Can Help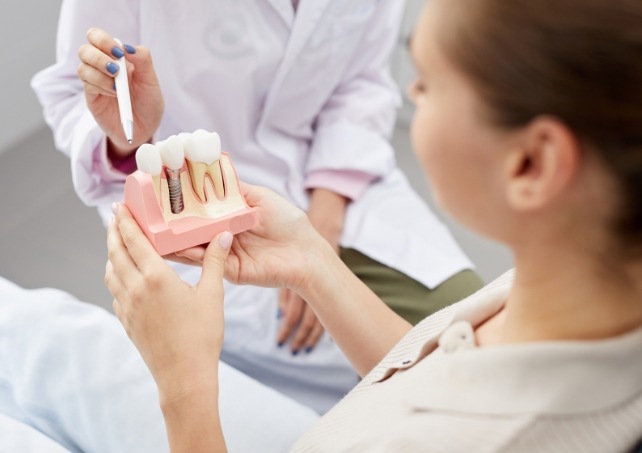 We use dental implants to replace any pattern of tooth loss—from one tooth to an entire smile. The type of restoration that you need will depend on the number of teeth that you're missing:
Missing One Tooth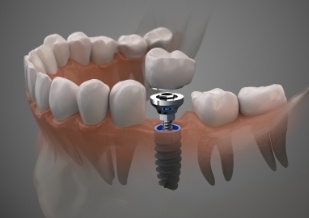 For those missing a single tooth, we can use an implant-retained crown to restore your smile. We will match your dental crown to the rest of your teeth, giving you a seamless and beautiful replacement.
Missing Multiple Teeth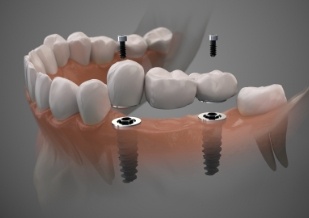 If you're missing multiple teeth consecutively, we may recommend an implant-retained bridge. This treatment utilizes one dental implant on either side of the gap in your smile to support a dental bridge. The custom-made prosthetic literally bridges the gap in your teeth for a strong and healthy grin.
Missing All of Your Teeth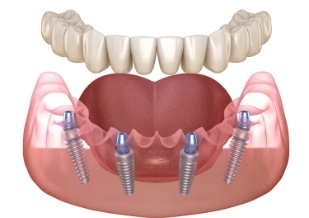 If you're missing all or most of your teeth, we can combine dental implants with dentures to provide you with the most stable full smile replacement available. Using an average of four to six dental implants, we can mount a lifelike denture to restore your eating, speaking, and smiling.
All-on-4 Dental Implants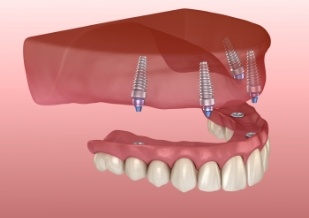 With All-on-4 implants, you can often receive a full denture on the same day that your implants are placed. This way, you never have to go without your teeth! All-on-4 uses only four implants that are placed at strategic angles and locations to make the most of the existing jawbone mass. Therefore, even patients who have experienced jawbone loss may be candidates for All-on-4.
Understanding the Cost of Dental Implants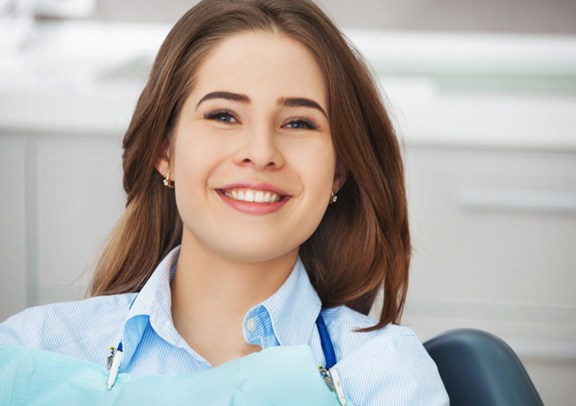 If you've already done some research on dental implants, you may be aware that the cost of the procedure can vary significantly from case to case. The good news is that our team will be able to give you a trustworthy estimate of the overall price of the treatment at your initial consultation. Rest assured that you won't have to move forward with the process without first having the chance to figure out a plan for making the process as budget-friendly as possible.
Preliminary Treatments & Dental Implant Surgery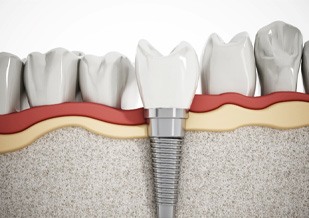 Naturally, the surgery to place the implant posts in your mouth is one of the key contributors to the total cost of the dental implant process. Factors such as where the implants need to be inserted can affect the price of the surgery.
However, you shouldn't overlook the costs associated with any preliminary procedures that you may need to have performed in order to be considered a candidate for dental implants. After examining your mouth, our team will be able to help you figure out whether you'll need to pay for gum disease therapy, bone grafting, or other additional treatments.
The Parts of Your Dental Implant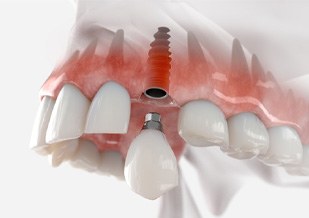 How much will the dental implants themselves cost? The answer depends on the following:
The Number of Implants Needed: A patient who has lost multiple teeth will likely need to pay for more dental implants than someone who is only missing one tooth.
The Kind of Tooth Replacement Used: Crowns, bridges, and dentures can all be attached to dental implants. Each form of tooth replacement carries a different cost.
The Material Used: Our team can explain what materials your dental implants will be made out of. The material used definitely matters when it comes to determining the final price.
How Dental Implants Can Save You Money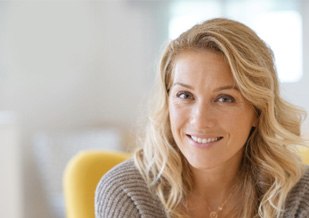 When looking at price alone, dental implants are generally more costly than traditional bridges and dentures. But the price tag isn't the whole story; thanks to certain factors, there's a good chance that getting dental implants could actually end up helping you save money.
One thing to consider is that dental implants tend to offer better longevity compared to other options. Traditional dentures and bridges may have to be replaced after just 5 to 10 years, but a dental implant could very well last for the rest of your life.
Another thing to think about is that dental implants can be given the same care as your natural teeth. This makes it very easy to maintain excellent oral hygiene so that you can avoid dental issues that you would need to pay to have treated.
Does My Dental Insurance Cover Dental Implants?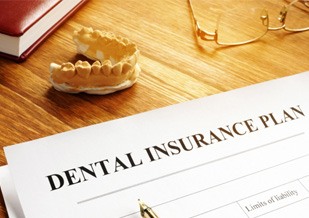 You should take a look at your dental insurance plan to make sure you're aware of what benefits are available and how they can be used to help pay for your dental implants. Even if the implants themselves may not necessarily be covered, your plan could still help you manage the cost of your final restoration or certain preliminary treatments.
Making Dental Implants Affordable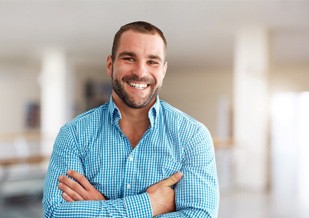 Uninsured patients may want to think about applying for a CareCredit financing plan. The cost of dental implants can seem a lot less intimidating when you're able to break it up into smaller monthly payments thanks to CareCredit. Get in touch with our team if you would like more information about CareCredit and how it works.
Dental Implant FAQs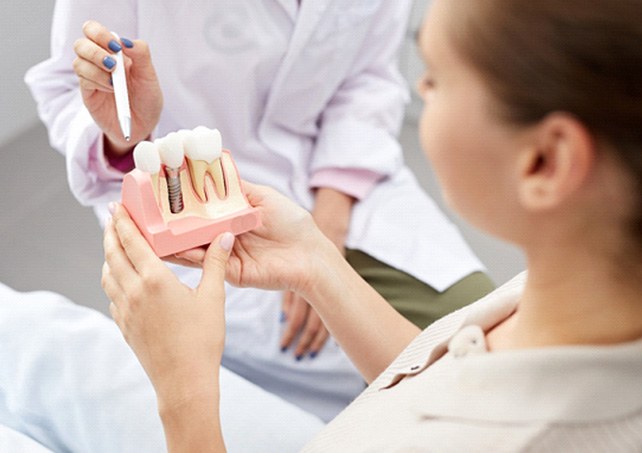 At this point, maybe you're interested in dental implants. You could certainly trust them – they'd do a great job restoring and beautifying your smile! However, you likely still have some lingering concerns. (It's best to go into treatment informed, after all.) We at Smile Care Family Dentistry can help: listed below are some popular implant questions and their answers. By reading them over, you'll understand how the prosthetics work. If you need other details, though, please call our office!
How Successful Are Dental Implants?
Rest assured: dental implants are highly successful. When placed by a skilled professional, their success rate even exceeds 95%! That means well-placed implants hardly ever fail early.
Of course, an implant's success still requires that you maintain it. You must thus practice good oral hygiene, attend dental checkups, and eat a healthy diet. Otherwise, you might develop dental issues that put your prosthetic at risk. You'd then be forced to get a replacement from your dental provider.
All that said, treatment success will also depend on your implant's location. For example, one acting as a molar will receive more pressure than a front tooth. It'd then be more likely to fail.
Are Dental Implants Safe?
So long as a dental professional places them, implants are quite safe. They won't harm your mouth or the rest of your body.
Still, certain medical conditions can make placement risky. If you suffer from low jawbone density or gum disease, the odds of your treatment's success will decrease. Patients with diabetes and cancer could also suffer complications after surgery.
Given these realities, let your dentist review your medical history before treatment. They can then tailor the implant surgery to account for your background. From there, the procedure should proceed smoothly and successfully.
What Can Cause Dental Implants to Fail?
While rare, dental implant failure can happen sometimes. These incidents usually occur for one of two reasons: peri-implantitis or failed osseointegration.
Put simply, peri-implantitis is a type of gum disease. It's typically caused by poor oral hygiene and damages your gums and jaw. Due to these effects, the infection can cause an implant to lose its support and fall out.
Failed osseointegration (per its name) occurs when an implant doesn't fuse with the jawbone. It often occurs when the patient has already suffered from low jawbone density. The failed fusion results in the implant staying loose and unstable. From there, it must be removed and replaced.
Will I Have to Take Off Work for Dental Implant Surgery?
Implant surgery will require that you take time away from work. However, this period usually isn't long. Most patients only need a day or two off to get implants.
Even so, keep in mind that every case is different. A dentist may suggest more time off if your situation is unique. For example, those with physically demanding jobs should take three or four days off. Heavy exercise could divert blood from the implant site and delay healing. (To compensate, you could schedule your procedure on a Thursday or Friday.)