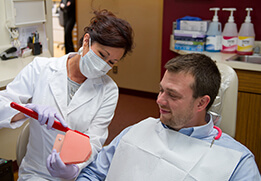 The American Dental Association recommends everyone over the age of 2 visits their dentist twice a year for a cleaning and checkup. Despite this advice, a Gallup poll found one-third of adults do not schedule an appointment every year. Often, it is thought teeth brushing at home is enough to keep oral health issues at bay, like tooth decay and gum disease. Although your oral hygiene habits are important, they are not enough. Both your dentist and your insurance company encourage you to visit your dentist every 6 months.

Brushing Isn't Enough
Your toothbrush is your first line of defense against preventable oral health problems, but there are still areas in your mouth where you cannot clean, like below your gum line. Not to mention, most Americans do not brush enough or correctly.
It is best to brush your teeth at least twice a day for two minutes to effectively remove food particles, plaque, and bacteria. Unfortunately, only 49% of men and 56% of women brush more than once each day, and many are not doing it long enough. The Academy of General Dentistry reports the average person cuts their brushing short by as much as 45 to 75 seconds.
Skipping proper brushing causes plaque and bacteria to accumulate in your mouth, increasing your risk of preventable issues. Among the biggest threats are tooth decay and gum disease. Currently, The Centers for Disease Control and Prevention estimates over 31% of adults have untreated cavities and at least 50% of Americans have a form of gum disease.
Although brushing significantly decreases your risk of these complications, it still is not enough. You need teeth cleanings twice a year to remove buildup that has been left behind by your toothbrush.
Reduce Your Dental Costs
While you may view routine appointments as unnecessary, they are vital to protecting your oral health. Even if you do not currently have any dental concerns, it is best to maintain your visits for a cleaning and checkup.
With a proactive approach, you reduce your risk of dental problems developing in the first place. By keeping your teeth and gums healthy, you prevent the need for a costly or invasive treatment in the future.
It is estimated every $1 spent on preventive dentistry reduces your restorative and emergency dental fees by as much as $8 to $50. If you have dental insurance, you can often get the preventive services you need for little to no out-of-pocket cost.
Get a Clean Smile Today!
Do not wait for oral health issues to develop. Keep your smile clean and healthy with a visit to your dentist every 6 months.
About Dr. Asra Javeed
Dr. Asra Javeed is committed to giving his patients a reason to smile. He provides complete dental care under one roof to help you reach superior oral health. With a focus on prevention, he offers the routine appointments you need to keep your teeth and gums healthy. If it has been more than 6 months since your last visit, contact Smile Care Family Dentistry today to schedule your appointment.