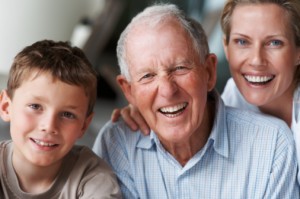 Smile Care Family Dentistry: our name says it all. We take care of the smiles of everyone in your family. From the children whose smiles are beginning to develop and grow; to adults who are looking for the right cosmetic treatment to enhance their smiles; and to senior citizens who may need to explore tooth replacement options, Dr. Asra Javeed and her team are prepared to offer any of the services you need to help your family enjoy healthy and happy smiles throughout their lives.

For children, Smile Care Family Dentistry provides all of their oral health care needs in an atmosphere that is friendly and comforting. When they arrive and are waiting to see Dr. Javeed, we have fun activities to keep them busy, and our staff is dedicated to making sure they're relaxed and comfortable.
Just like you, your children need checkups twice each year. In addition to cleaning their teeth and thoroughly examining their gums, we'll also teach them how they can do a good job of brushing and flossing their teeth at home. We want to help them build a foundation of proper oral hygiene and there's no better time than when they're young. But as youngsters, children tend to be prone to decay, because they're just learning to care for their teeth. To help, we have fluoride treatments and dental sealants.
The Virginia Beach Family Dentist Sees Adults of all Ages, Too
As we age, our smiles change. Our teeth may become worn, we may even suffer tooth loss and we are likely to notice that our smiles aren't as attractive as they were when we were younger. No matter what your smile needs to look good and be healthy again, Smile Care Family Dentistry has the dental treatment for you.
At some point, most people need restorative care. After so many years of biting a chewing, teeth may succumb to decay, wear and cracks or even tooth loss. In these instances, we can repair or rebuild your tooth. If you need to brighten your smile, then we have teeth whitening or for a more complete cosmetic makeover there are porcelain veneers. And for those patients who are missing teeth, we offer dental implants, crown and bridge and full or partial dentures to rebuild your smile.
Contact Our Office Today
Regardless of the kind of dental services you need for your family members, you can count on Smile Care Family Dentistry in Virginia Beach, VA. We welcome patients from all over – Lynwood, Norfolk, Bay Island, Salem and beyond.