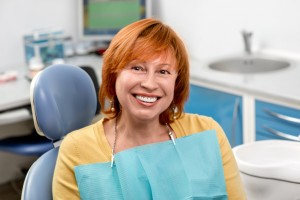 Missing one or more teeth and trying to decide on the best replacement option? Knowing which one is right for you isn't easy, but Dr. Asra Javeed at Smile Care Family Dentistry is here to help. Let's start with two of the most popular choices: dentures and dental implants in Virginia Beach. What's the difference, really? And which might be better for you? Keep reading to find out the answers to these questions, and more.
Your Tooth Replacement Options in Virginia Beach, VA
No matter how you came to have missing teeth, one thing is for sure: they've got to be replaced. Missing teeth create real problems, like problems eating, speaking and lowered self-confidence. But the good news is this: you don't have to live with these issues in 2016.
Partial and Full Dentures Replace Teeth Quickly
Dr. Javeed can replace one or more missing teeth with partial or full dentures. Partial dentures are clipped in securely with your existing teeth like a puzzle piece, while full dentures replace a whole row of top or bottom teeth using suction or an over-the-counter denture adhesive.
Partial and full dentures are an affordable way to quickly replace missing teeth. It may take a while for you to get used to your new device, but soon you'll be eating, speaking and smiling just like you always have.
Dental Implants Secure Dentures And Keep Your Mouth Healthy
While non-implant supported dentures are a fine option in tooth replacement, they only do half the job. When you're missing a tooth, you've also lost its root — a vital component for stability and jaw health. It makes sense you'd replace that, too, right? Dental implants act as a prosthetic root to give you your whole tooth back, for a more natural look and feel.
Tiny posts of titanium, dental implants are inserted directly into your gum. Over a period of time, they gradually fuse with the jawbone — a crucial process called osseointegration that gives your new dentures the stability you want.
A few of the many benefits of implant-supported dentures include:
Restored ability to bite, chew and speak

You never have to worry about an uncomfortable or ill-fitting device

Osseointegration keeps your jawbone healthy, meaning your dentures won't ever have to be refitted as a result of degeneration

When cared for properly, dental implants can last for a lifetime
Learn More from Your Richmond Dentist This Month
This year, make good on your New Year's resolution to improve your life by completing your smile with one of the excellent options available at Smile Care Family Dentistry. Contact our office for your consultation with Dr. Javeed! We're pleased to serve our neighbors from Virginia Beach and surrounding areas, including Norfolk, Chesapeake and beyond.