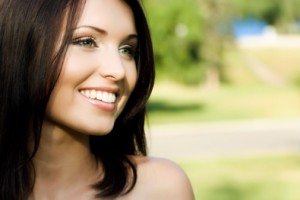 If you often feel self-conscious about the appearance of your smile, you're not alone. Millions of American men and women experience dissatisfaction regarding the way their teeth or gums look, but today's cosmetic dentistry services make it possible to achieve a radiant, flawless smile more easily than ever before. At Smile Care Family Dentistry, Dr. Asra Javeed and her team offer a full range of cosmetic dentistry services to patients in Virginia Beach, VA and the surrounding areas.
How Can Cosmetic Dentistry Benefit You?
Your smile is your introduction to the world. Do you feel that it is sending the right message? Teeth that are chipped, gapped, stained, or otherwise marred by imperfections may lead you to hide your smile in social and business situations. Fortunately, Dr. Javeed is a skilled cosmetic dentist with years of experience helping patients just like you reveal brighter, more confident smiles.
One of our most popular cosmetic dentistry services is teeth whitening. Discoloration caused by coffee, red wine, tea, tobacco, and dark foods are erased with professional take-home teeth whitening kits from Smile Care Family Dentistry. Simply wear your custom whitening trays for the prescribed amount of time every day, and see years of stains disappear.
Another commonly requested cosmetic dentistry solution is porcelain veneers. These ultra-thin, stain-resistant layers of dental ceramic are meticulously crafted to fit over the front surfaces of your existing teeth. They are beautifully fabricated from fine porcelain, a material that reflects light in the same way that enamel does. Porcelain veneers are commonly used to correct cosmetic flaws like gaps, chips, deep stains, cracks, and uneven tooth shape. Typically, veneers can be placed in as few as two visits to our office. We also offer tooth-colored fillings and custom porcelain crowns.
Schedule Your Cosmetic Dentistry Visit
There's never been a better time to unveil your most beautiful smile. Start the New Year off right with a new you at Smile Care Family Dentistry with Dr. Asra Javeed and her team of highly trained oral health professionals. We'll take the time to sit down with you to discuss your cosmetic dentistry goals and expectations, all while answering any questions you may have about our available treatments. Contact us today to schedule your visit, and discover how easy and affordable it can be to straighten and brighten your smile.
Our state-of-the-art dental practice in Virginia Beach, VA proudly welcomes families from throughout the surrounding areas, including Chesapeake, Norfolk, and beyond.