Dental Crowns & Bridges – Virginia Beach, VA
Bringing Back Your Smile's Beauty & Function
Everyone wants to have a perfect, white smile to display to the world, but when a tooth is missing, or if a tooth is damaged, the idea of having a stellar smile can seem like a pipedream. When a tooth is fractured or missing, it can affect oral hygiene and health, and negatively influence self-confidence. Cracked or missing teeth can cause pain, frustration, and can potentially lead to further oral health problems. Smile Care Family Dentistry offers dental crowns and bridges in our Virginia Beach, VA dental office to fix cracks in teeth, replace missing teeth, and return your mouth to prominence.
Why Choose Smile Care Family Dentistry
for Dental Crowns & Bridges?
Long-Lasting, Natural-Looking Materials Used
Custom Restorations Designed to Meet Your Unique Needs
Advanced Technology and Evidence-Based Dental Office
The Benefits of Dental Crowns & Bridges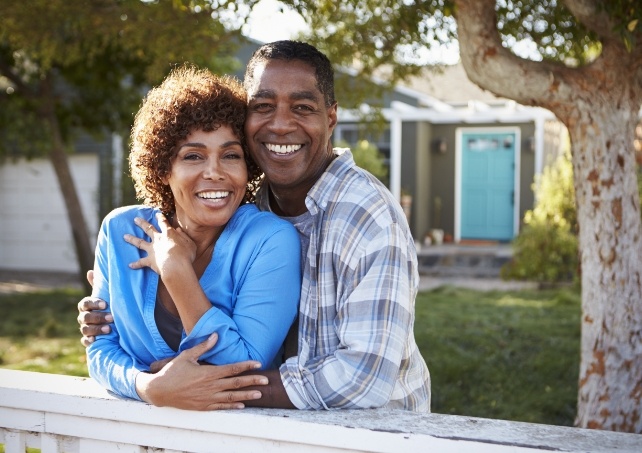 We love nothing more than helping our patients achieve their oral health goals and restoring smiles to proper form. Dr. Javeed, a dentist with incredible skill, and her fantastic team of professionals have the experience and passion to properly correct any dental imperfections, fix problem areas, and give every patient the treatment they deserve. Our crowns and bridges are specifically crafted to fix cracked or missing teeth, while providing strength and durability. Crowns and bridges can restore the natural function to your mouth and allow you to properly chew once again. And with the stellar aesthetics, you no longer have to be self-conscious about your appearance.
What are Dental Crowns & Bridges?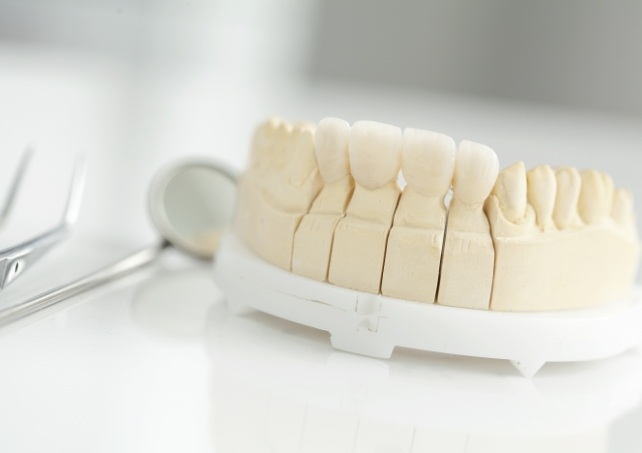 Our crowns and bridges are the perfect way to correct your dental problems. These restorative treatments can fix your problem areas and restore your mouth to proper form.
Dental Crowns: These "caps" are used on fractured teeth. They fill the damaged area, provide strength, and give a natural look to a tooth. Crowns can also be placed on teeth that are in the process of weakening, preventing them from becoming fractured or cracked. The dentist may also use crowns to cover a dental implant, a discolored or poorly shaped tooth, or cover a tooth that has recently undergone root canal therapy.
Dental Bridges: These durable tooth replacements fill in the gaps of a missing tooth or a set of missing teeth. Bridges are cemented to the teeth surrounding the missing area, locking the replacement teeth in place. They provide comfort and function, while giving a natural look.
Both crowns and bridges are made of either porcelain or ceramic materials and can last for up to 10 years with the proper care.
Schedule Your Dental Crown & Bridge Consultation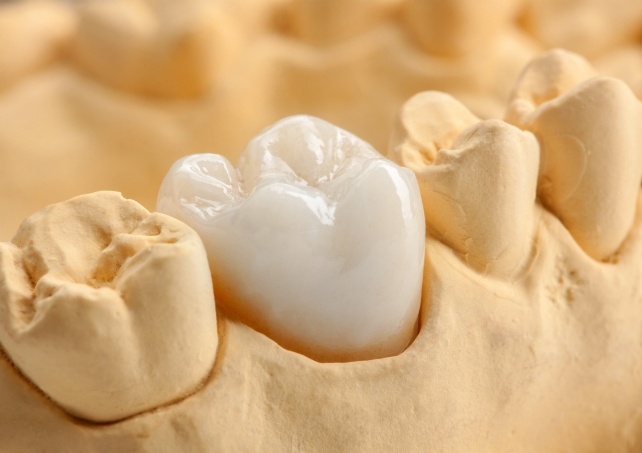 Instead of letting oral problems get the best of you and hinder your day-to-day routine, let our professionals correct your dental issues. Contact our dental office and schedule an appointment to receive our stellar treatments. We happily serve Virginia Beach, VA, Chesapeake, Norfolk, and the neighboring communities.