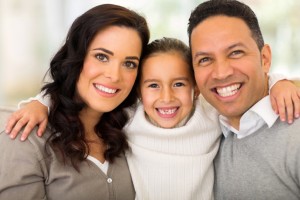 Finding a dentist that can care for the entire family can be challenging. Children's dental offices can be fun, however it saves you time to be able to take your entire family to one practice, rather than running everyone all over town. You want to work with a dentist who understands the needs of children as well as adults. After all, setting your child up for success at their dental appointments is a top priority. If you're looking for a family dentist in Virginia Beach, Smile Care Family Dentistry is the best place for your entire family!
Children's Dentistry
At Smile Care Family Dentistry, Dr. Asra Javeed takes children's dentistry to the next level. She understands that children may be fearful about their dental appointments at first, so she makes the office as friendly and comfortable as possible with fun activities for children to do while they wait. She will take the time to explain everything to your child so they feel comfortable and even excited about their dental visits. As a mom herself, Dr. Javeed understands how important these first few visits are in setting your child up for a lifetime of success at the dental office.
Smile Care Family Dentistry offers services for children such as fluoride treatments designed to protect and build up your child's tooth enamel. We also offer services such as sealants that are designed to protect your child's teeth from tooth decay and cavities. We take the utmost care in making these procedures easy and comfortable for your child.
Adult Preventative Care
Regular cleanings and check ups are important for adults as well. This is the time when your dentist will screen for oral cancer, periodontal disease and restorative needs. Being proactive about your oral health will ensure that you catch any issues in the early stages, when it's easier to treat and less costly for you.
At Smile Care Family Dentistry, our skilled hygiene team is equipped to help you through any stage of periodontal disease. Otherwise known as gum disease, it can be tricky to diagnose because there's typically not pain associated with gum disease at first. Some early signs include gums that are swollen, red or bleed when you brush or floss. Chronic bad breath can also be an indicator of gum disease. The good news is that gum disease can be treated and staying on top of your oral hygiene visits may help you prevent it.
Dr. Javeed and her team are always ready to welcome new patients to the practice. With a focus on friendly family care you will feel at home right away when you visit Smile Care Family Dentistry. Call us today to schedule your family's next dental appointments.