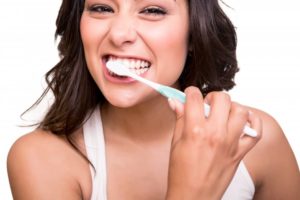 You ever wonder why your dentist always remembers to give you a bag of dental products to take home with you? It's not just because they have plenty to give away. That bag is a message that says "Use me up by your next visit!"
So instead of throwing that bag of toothpaste and floss in the back of your closet, take advantage of the free stuff that keeps your teeth healthy! With proper oral care, you can be confident that your Virginia Beach dentist will have good news come your next visit.
The Triple Threat: Brushing, Flossing, and Using Mouthwash
According to the American Dental Association, the best way to prevent gum disease and tooth decay is through three simple measures. The first, is brushing twice a day with a fluoridated toothpaste. The second, is to floss at least once a day to remove plaque from hard-to-reach places. The third, is to see your dentist in Virginia Beach twice a year for regular cleanings.
You'll notice I threw you for a loop there. What you can also do to reduce plaque and strengthen your too enamel is incorporate a fluoridated mouth wash into your routine. Almost any over-the-counter mouth wash will do, as long as it's has the ADA's Seal of Approval on the back. This way, you'll know that it's proven to be safe and effective at reducing tooth decay and gum disease (plus it kills bacteria that causes bad breath.) After you've chosen the one you like, get ready to hone your oral care skills.
Perfecting Your Oral Care Routine
Knowing proper technique is essential to keeping your teeth and gums in healthy condition. Every day, brush your teeth on all sides with a toothbrush that feels comfortable to you. Use small round motions and short back-and-forth strokes to make your routine as thorough as possible. Make sure to brush along the gumline and on your tongue as well. Bacteria can stick to your tongue like a sponge and is the main cause of bad breath.
While it can be tricky at first, flossing removes food debris and plaque from places a toothbrush can't reach. When flossing, use a generous amount so you can wrap it around your fingers. This will make it easier to control as you get to deeper areas of your mouth. As you go from one side of the mouth to the other, unroll the floss from one finger so you can be more precise with your cleaning.
Avoid These to Make Your Dentist Happy Every Time
Foods that are high in sugar content or very starchy are the worst for your teeth for one reason: bacteria loves to eat them. Every time you eat potato chips or take a large bite out of chocolate, bacteria take a large bite with you. This allows them to multiply and spread to other parts of the mouth, eventually growing into plaque.
Avoid tobacco products at all costs as these have been proven to increase your chances of contracting gum disease. This includes, cigarettes, chewing tobacco, hookah products, cigars, and anything else containing tobacco.
Be one step ahead of tooth decay and gum disease with preventive care. Make an oral care regimen an essential part of your life today!
About the Author
Dr. Asra Javeed, DMD, earned her Doctorate of Dental Medicine from Boston University and has received many awards for her accomplishments in dentistry. This includes her expertise in oral pathology and her clinical and academic pursuits. To learn more about her practice and the latest advancements in modern dentistry it offers, contact her at (757) 498-6420 or visit her website.