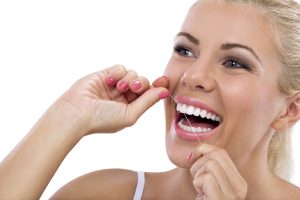 We've all heard that flossing is an important part of oral hygiene, but how often should you be flossing? If you're flossing regularly, are you flossing correctly? While flossing may seem pretty self-explanatory, there are simple aspects you may be overlooking that are placing your oral health at risk. As your Virginia Beach dentist, Smile Care Family Dentistry has everything you need to know about flossing properly. With the proper care, you'll protect your smile from damage.

Why Do I Need to Floss?
Flossing removes food, debris and bacteria that becomes trapped between the teeth. While many think brushing is enough to clean the mouth, it's not. Brushing can't reach in between the teeth, which is why flossing is needed. If you don't floss your teeth regularly, you allow the bacteria to accumulate. The bacteria will then turn to plaque, eventually hardening and turning to tarter. When left on the teeth, it causes bacteria to flourish, opening the door to tooth decay and gum disease. Flossing and regular appointments for dental cleanings are the only way to remove the damaging bacteria from between the teeth.
How Often Should I Floss?
The American Dental Association recommends you brush your teeth at least twice a day and floss once a day. While it doesn't really matter if you floss before or after brushing, it's often best to floss at night before heading to bed. This will help to keep your mouth cleaner throughout the night when bacteria can multiply.
What's the Right Way to Floss?
When it comes to choosing a dental floss, you have a lot of options. However, you want to choose a dental floss that has the ADA seal, which means the floss is supported by scientific evidence that it's safe and effective for reducing plaque and gum disease.
To floss correctly, you'll need to place the floss in between every tooth, one tooth at a time. Hug the tooth with the floss, forming a "C" around each tooth. Gently slide the floss all the way down to the gum line and then back up to the top of the tooth. Be careful not to snap the floss on the gums or press too hard to avoid damaging the gum line. Repeat the process for every tooth to ensure you haven't missed an area.
The ADA recommends you do not rinse and reuse floss. You should use new floss each time to prevent the spread of bacteria. Plus, floss is likely to fray with use and damaged floss won't be as effective.
Your Virginia Beach Dentist
As your dentist in Virginia Beach, we want to see your smile stay as healthy and beautiful as possible. We encourage you to brush and floss properly each day to protect your oral health. In addition to home care, you will need to come in twice a year for professional cleanings and checkups with your Virginia Beach dentist. We will thoroughly clean your teeth to remove any plaque or tarter missed with brushing and flossing, while checking for any areas of concern.