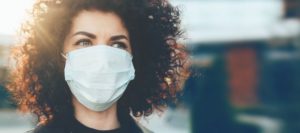 The COVID-19 pandemic is a scary time for all of us. However, some people are at a higher risk of developing serious, even life-threatening illness if they catch the coronavirus. Nearly every aspect of our daily lives has been changed because of the pandemic, so it's completely natural to have some questions about how to keep yourself and your loved ones safe in these unusual times. Read on as your Virginia Beach dentist answers five common concerns about daily life as an at-risk patient during the COVID-19 pandemic.
Who Is at A Higher Risk of Serious Illness from COVID-19?
There is still much to learn about the coronavirus. However, based on current studies and research, there are several factors that can increase a person's risk of severe illness from COVID-19, including:
Older age (65 years and older)
Heart disease
Respiratory disorders
Weakened immune system
Cancer of any kind
Can COVID-19 Survive on Surfaces Like Handrails & Doorknobs?
According to recent studies from Harvard and numerous other institutions, the novel coronavirus can survive on:
Copper for up to four hours.
Cardboard for up to 24 hours.
Plastic and stainless steel for two to three days.
To disinfect surfaces that may be contaminated by COVID-19, you can use soap and water, 60% alcohol hand sanitizers, bleach-based cleaners, and hydrogen peroxide solutions.
How Do I Protect Myself & Others from COVID-19?
Currently, there is no cure or vaccine for COVID-19. As such, the only way to prevent getting sick is to avoid exposing yourself to it by:
Staying home as much as possible and limiting physical interaction with those who don't live with you.
Practicing social distancing and wearing a face covering while out in public areas.
Regularly washing your hands with soap and water.
What's the Safest Way to Get Essentials like Food & Medications?
The above practices should be used when getting essentials as well. For instance:
Choose contact-free delivery for groceries, takeout, prescription medicines, and any other essential services you need whenever available.
Use curbside pickup and drive-thru options when delivery is not available to minimize your exposure to others.
If you must go inside an establishment, wear a mask, practice social distancing, and avoid touching high-traffic fixtures. If possible, choose a store that has shopping hours dedicated to at-risk customers.
Should I Still Go to My Doctor or Dentist Appointment?
While some doctor and dentist visits are essential to your on-going health, others may be postponed or changed to tele-visits. To find out the best course of action for your unique situation, call your health care provider. If it's in your best interest to visit them for in-person care, you can rest assured that they are taking every precaution to keep you safe. For example, your Virginia Beach dentist has established numerous dental safety protocols like:
Advanced training, daily health checks, and adequate PPE for all team members.
Virtual waiting rooms, no-touch temperature checks, and hospital-grade hand sanitizer for patients.
Sequenced appointment scheduling, at-risk only hours, and teledentistry options.
Advanced chairside suction, new HEPA air filtration, and a thorough deep cleaning of the practice every night.
We all need to do our part to prevent the spread of COVID-19. Together, we can keep ourselves, our loved ones, and our entire community safe in these unusual times.
About the Practice
At Smile Care Family Dentistry, nothing is more important than the wellbeing of our patients and staff. Now and always, we are committed to meeting and exceeding the safety recommendations set forth by the CDC and the ADA. To keep Virginia Beach safe while providing essential dental care, we have established a wide variety of new infection control protocols. To learn more about our Commitment to Safety or what to expect at your next appointment, we encourage you to visit our website or contact us at (757) 498-6420.