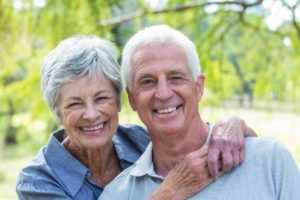 As with most things in life, getting older means taking the good with the bad. Along with the wisdom and maturity that goes along with aging, there are some physical challenges that present themselves as well. For most folks, things just don't work quite the way they used to!
Having said that, great health and vitality are still within your reach, although it may take a bit more work than it once did. In this article, your Virginia Beach dentist will talk about some of the oral health issues that mature patients may encounter in their golden years as well as simple tips and tricks for taking care of them.
What Kind of Oral Health Issues Can Seniors Face?
Many seniors feel discouraged if their oral health isn't what they would like it to be. But it's important to remember that seniors came of age in a very different time when prevention wasn't emphasized. For example, in-office fluoride treatments that prevent decay simply weren't used as much as they are now.
In addition, there were many years where dentists didn't focus on saving teeth. Instead, when patients went to their dentist with toothaches or cavities, their teeth were simply extracted.
As a result, many seniors today don't have a full set of teeth. Over the years they have sought out replacement options like bridges, partial or full dentures, or implants – all of which require a little extra care and maintenance.
Also, a common side effect of many medications is dry mouth. Dry mouth dramatically increases the risk for decay because saliva washes away plaque and bacteria and also neutralizes the acids that can attack the teeth.
How Can You Care For Your Teeth and Gums As You Age?
As a senior, one of the best things you can do for your oral health is come in regularly for checkups and cleanings.
Much the same way that preventive maintenance can keep your car running smoothly, consistent visits with your dentist in Virginia Beach means that they can catch problems when they're small and easier to fix.
Consistent care is also a great way to prevent problems before they start! For example, your dentist can prescribe prescription-strength fluoride toothpaste that will counteract dry mouth and prevent decay.
And as always, your homecare routine has a huge impact on your oral health! The general guideline is to brush 2-3 times a day and clean in between your teeth once.
An electric toothbrush is an excellent tool for seniors because it automatically stays on for the recommended two minutes and does much of the work for you. They're especially great if you have arthritis and have a difficult time gripping a regular toothbrush handle.
There are also floss picks and oral irrigators that can make cleaning in between your teeth and under your gumline much easier and more effective.
Your golden years are meant to be enjoyed. With these tips and a little extra care and attention, you'll be smiling for many years to come!
About the Author
Dr. Asra Javeed is an award-winning general, cosmetic and restorative dentist who enjoys working with patients of all ages to improve their oral health and overall quality of life. She knows the difference that the right homecare and professional treatments can make in giving her patients a beautiful, healthy smile. She can be reached for questions via her website or at (757) 498-6420.