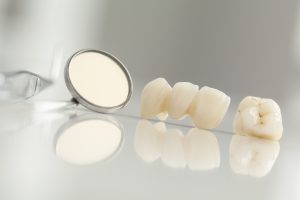 If you have a cavity or more extensive damage to a particular tooth, you may need a filling or a dental crown. These two restorations from your dentist in Virginia Beach, Dr. Asra Javeed, restore the appearance, function and health of compromised teeth. What are the differences between fillings and crowns, and what is the treatment process for each? Your team at Smile Care Family Dentistry uses state of the art diagnostic techniques, quality materials and excellent treatment processes to repair decay, infection and more.
What is a Filling?
The Oral Health Foundation states that the typical American adult has an average of seven dental fillings. Plainly stated, fillings restore teeth that have one or more cavities, or holes in their enamel caused by the action of oral bacteria contained in plaque. Streptococcus mutans is the microorganism that lives in the food residues dentists call plaque. These germs secrete corrosive acids which result in tooth decay.
For decades, the dental filling has been the treatment of choice for tooth decay. Your dentist confirms the presence of a cavity with oral examination and gentle probing. Also, digital X-rays and intraoral cameras uncover decay in hidden areas of the mouth such as between teeth and beneath existing restorations such as bridgework.
How is a Filling Placed?
To place a dental filling, Dr. Javeed numbs the area around the tooth and uses a high-speed drill and other instruments to remove decay and prepare the site for the tooth-colored filling material. Most of today's fillings are made of composite resin–a durable combination of glass and acrylic. Unlike dark amalgam fillings, these white restorations match surrounding tooth enamel and are bonded right to healthy tooth structure using a special curing light. They require less enamel preparation than their old-style counterparts and do not cause the dental sensitivity common to amalgam fillings.
What is a Dental Crown in Virginia Beach?
A dental crown, or cap, covers a failing tooth from top to bottom. This tried and true restoration improves the tooth's appearance and strengthens its structure. Dr. Javeed may advise a crown when a tooth is:
Extensively decayed
Have multiple fillings
Is cracked
Is misshapen due to congenital defect
Has been restored with root canal therapy
Crowns may be fabricated from gold, porcelain fused to metal or all porcelain. Whenever possible, Dr. Javeed places porcelain crowns for superior appearance and strength. Also, she uses crowns to anchor fixed bridgework, replacing one or more missing teeth in a row, or to restore dental implants, the best tooth replacement option available today.
How is a Crown Placed?
Your dentist removes old filling material and decay and shapes the tooth to receive the crown. In addition, she takes oral impressions and sends instructions to a dental lab where the crown is fabricated. She covers the tooth with a temporary cap while the labs make your permanent restoration.
At the next visit to Smile Care Family Dentistry, Dr. Javeed removes the temporary crown and cements the permanent one in place. She ensures it fits properly and bites together with the opposite arch of teeth correctly.
Which Restoration is Right for You?
Dr. Javeed will help you decide. Either way, you will receive the best dental care in the Virginia Beach area. Dr. Javeed and her team have received the Patients' Choice Award so you know you're in capable and caring hands. Why not contact Smile Care Family Dentistry today to see how Dr. Javeed can help your ailing tooth?