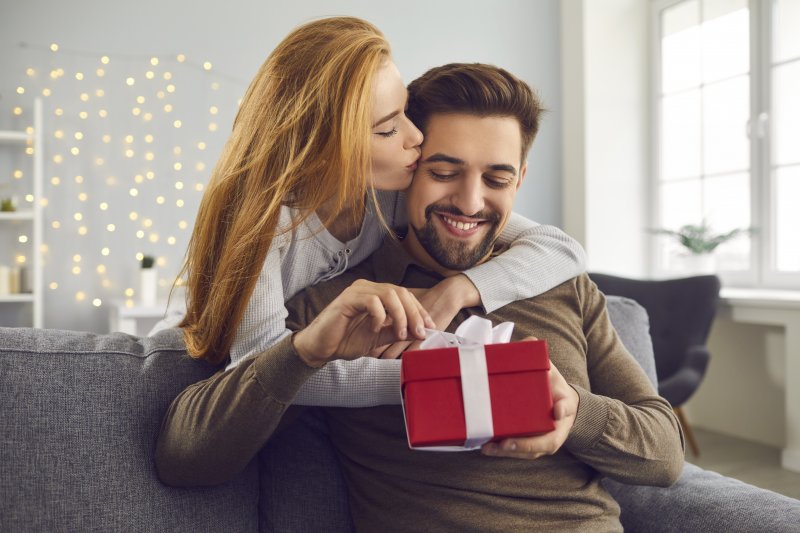 Have you come up with a Valentine's Day gift idea for your partner? Are you tired of giving them the same old roses, chocolates, and teddy bear? You're in luck! There are numerous options for creative presents for your loved one, including gifts that will give them a healthier smile. Read on for five ideas for Valentine's Day dental gifts that are sure to impress your date.
#1: Sugar-free Candy
Did you know that popular candies like peanut butter cups and gummies come in sugar-free varieties? Not only do these taste as sweet as the originals, but the lack of sugar also means that they're better for your partner's teeth! Consider gifting these to your Valentine's Day date instead of the classic sugar-filled versions so you can encourage a healthy smile in a tasty way.
#2: Dark Chocolate
What's Valentine's Day without a box of chocolates? Though they're a staple of the holiday, these chocolatey treats are also packed full of sugar. Fortunately, dark chocolate is a more tooth-healthy alternative. It contains less sugar than milk chocolate and is also easier to wash away than sticky candies.
#3: A Waterpik
It's no flowers and chocolate, but a water flosser is an excellent investment in your partner's smile. they shoot off a jet of water to clean away plaque and food particles between the teeth and are particularly beneficial for people who have mobility issues like arthritis.
#4: Cosmetic Dentistry
If your partner has ever expressed dissatisfaction with the look of their smile, consider gifting them a cosmetic dental treatment for Valentine's Day. Porcelain veneers can be used to fix minor alignment issues, cover up discoloration, close gaps between teeth, and hide chips and cracks. Teeth whitening can lift stains from their pearly whites and leave them with a brighter smile. regardless of which procedure you gift then, the end results with be a more beautiful set of pearly whites!
#5: Dental Hygiene Products
Does your partner like cupcakes, chocolate, or licorice? Not only are those types of sweet treats, but they're also flavors of toothpaste! Gift them fun dessert-themed toothpastes to make taking care of their teeth more enjoyable. If they need a new toothbrush, you can upgrade them to an electric one to remove buildups of plaque more effectively.
Though Valentine's Day dental gifts may not be the first thing that come to mind, your partner is sure to appreciate them. Make this a holiday to remember by giving them the gift of a lifetime of healthy, beautiful pearly whites!
About the Author
Whether you want to improve your own smile or treat your partner to a cosmetic dental treatment they've had their eyes on for Valentine's Day, Smile Care Family Dentistry can help. Additionally, if you need ideas for tooth-healthy Valentine's Day dental gifts to give your loved one, they can give your ideas that will make this one they'll never forget! Call Smile Care Family Dentistry at (757) 498-6420 or visit their website to set up an appointment with their talented Virginia Beach team or for more information on their services.