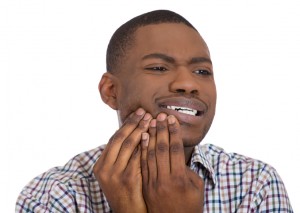 Here's a startling stat: gum disease, or gingivitis, is the most common disease in the United States. Did your eyes and ears just perk up? That's taking into account all sorts of ailments including cavities, missing teeth, oral cancer and others. Include heart disease, Alzheimer's and more in that category, too. Gum disease beats all of them in how many people it affects. How rampant is the disease? Roughly 80% of the country is suffering from any kind of gum disease. Yikes! That's way too many people to be suffering from such a debilitating disease. Your mouth is a very important part of the body, and one that works in conjunction with the rest of your body to bring you overall health. Whenever gum disease pops up, it can cause major problems for your oral health. You must get it treated, and our office in Virginia Beach, VA has the tools and team to zap gum disease at its core. If you or a family member think gum disease may be infecting your mouth, see the dentist area residents go to for any dental assistance: Dr. Asra Javeed. To treat gum disease, Virginia Beach residents look to Dr. Javeed.

Gum Disease Can Be Tricky To Spot
Yes, there are symptoms that can point directly to gum disease as the culprit. However, at least in its earliest stages, there may be no symptoms at all. Kind of scary, right? As pointed out, it usually occurs in the early stages. However, once enough time has passed, you may start to see actual symptoms.
What are these symptoms? They include:
Gums that are overly sensitive
Bleeding gums post brushing and flossing
Breath that could knock over a cow (not a good thing)
Teeth that feel loose
Gum lines that are retreating
Remember, you may not be able to spot any symptoms in the early stages. The minute you spot any of the above symptoms, it would be best to call our office and receive the best periodontal treatment in the area. We don't care how you contracted gum disease, all we care about is tending to it immediately.
Our periodontal therapy can't cure gum disease, but what it can do is ensure your oral health and well-being are intact. What all is involved with periodontal therapy? We offer root planing, antibiotic treatment and laser therapy. No matter which method you and Javeed decide on, your gums will thank you later.
Schedule Your Periodontal Treatment Today – Periodontal Disease, Virginia Beach, VA
Gum disease can't wait. It's going to keep meandering throughout your mouth and affect anything it can. Come to our Virginia Beach, VA office and treat this terrible disease. We welcome patients from all over – Lynwood, Norfolk, Bay Island, Salem and beyond.