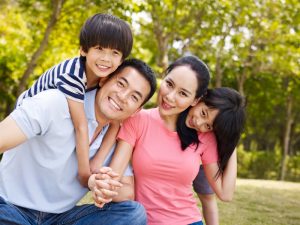 Finding the right health care providers to work with is a top priority on everyone's list. Are you looking for a new dental provider that you can trust and build a relationship with? Would you like to find a provider that can meet the needs of your entire family? Well, look no further than Smile Care Family Dentistry! As a bonus, we also accept Delta Dental insurance. Dr. Asra Javeed is your Delta Dental dentist in Virginia Beach and we're here to meet your l needs in a warm and friendly environment. Here are a few of the premiere services you can expect to find at Smile Care Family Dentistry.
Children's Dentistry
Wouldn't it be more convenient if the entire family could go to one dental provider? As a mom herself, Dr. Javeed understands how important first dental visits are for children. She and her team strive to keep all visits to our office pleasant and upbeat for your child, by providing fun activities for them while they wait and educating them about their oral health.
We also offer advanced services for children such as fluoride treatments to help build, strengthen and protect their teeth from tooth decay. Dental sealants help small teeth defend against cavities. We can also create protective mouth guards for our patients who participate in sports.
Dental Implants
You'll find that Smile Care Family Dentistry offers a full range of services for adults, and we're proud to offer advanced care such as dental implants. For patients living with a missing tooth, a dental implant can truly change their life. Implants are by far the most reliable tooth replacement option, boasting a 95% success rate.
The secret behind their success lies in the fact that they replace both your root and your tooth. Because this closely mimics your natural tooth, you'll enjoy the same beauty and function that your natural tooth once provided. Dr. Javeed can determine if dental implants will work for you with a thorough examination and x-rays.
Bruxism Treatment
Otherwise known as teeth grinding, bruxism typically occurs at night while you sleep. Clenching or grinding your teeth may not seem like a big deal, however if left untreated, it can cause painful headaches, wear, and jaw pain. Dr. Javeed can create a customized mouth guard that is easy and comfortable to wear at night while you sleep. It will relax your muscles and protect your teeth from the wear and damage cause by bruxism.
These are only a few of the exceptional services available when you choose to work with Smile Care Family Dentistry. We encourage you to give us a call to learn more about us and schedule your next dental appointment.