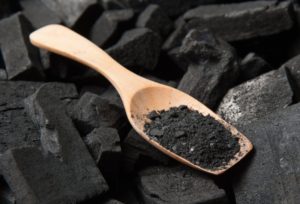 You've probably run into activated charcoal teeth whitening products when you go buy your toothpaste at the grocery store. It seems odd using this prehistoric product to give you a blindingly bright smile. But here's the thing everybody's wondering, does it really work, or is it just another cosmetic gimmick? Fortunately, your cosmetic dentist can give you the activated charcoal lowdown.
The Activated Charcoal Fad
The moment activated charcoal got its own hashtag, we started seeing it line the shelves of every health and beauty aisle. You've probably noticed that none of the packaging offers an ADA approval seal, which is what brought you here.
Activated charcoal is known to be a spongy substance that soaks up impurities, which best explains its use for water filtration and to treat poisonings in hospitals. It has recently popped into the health and beauty markets in skin cleansing products and air purifiers.
Charcoal teeth whitening has commanded attention in dental hygiene because of its popularity among bloggers and Youtubers. As a natural teeth whitener void of the harsh chemicals you find in most other options, it offers an organic alternative.
What do Dentists Say?
Although activated charcoal has its short-term teeth whitening advantages, dentists warn against its abrasive effects. It can cause serious damage in the long-run and is known to cause enamel decay which can lead to tooth sensitivity.
The ADA has yet to give its seal of approval to activated charcoal as a teeth-whitening product because of the lack of long-term studies that have been done. With no knowledge of whether it's safe or effective, it's best to consult your dentist about teeth whitening techniques before buying into the activated charcoal craze.
How Does Activated Charcoal Compare to Toothpaste?
You've probably seen the word "detoxifying" floating around the words "activated charcoal". Although charcoal can help clean up the plaque and food particles in your mouth, it doesn't actually have any detoxifying qualities that will benefit your mouth.
Toothpaste is generally as effective as activated charcoal at lifting the plaque and bacteria from your gums and teeth. Most whitening toothpastes are safer to use and don't have as erosive effects as activated charcoal. While toothpaste can whiten your teeth by a shade or two, they don't have as drastic effect as activated charcoal does.
To keep your teeth from experiencing the harsh after-effects of activated charcoal, it's best to consult your dentist about alternative and safe teeth whitening options.
About the Author
Dr. Asra Javeed helps her patients unabashedly flash their smiles instead of keeping them hidden by lips. She has received multiple awards and accomplishments which attests to the high quality of care she provides her patients. She currently practices at Smile Care Family Dentistry and can be reached at their website or by phone at  797-498-6420.