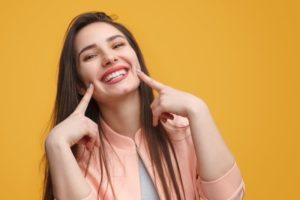 When you smile in the mirror, are you happy with your appearance? Or, do you see a lot of gums and not enough teeth? Smile confidence is a real thing that can affect your personal and professional lives. Those with smaller teeth may not feel as confident as they would with a big and bright smile of pearly whites. Keep reading to learn how porcelain veneers can help you achieve the smile of your dreams from a trusted cosmetic dentist.
What Are Porcelain Veneers?
Porcelain veneers have been used by many to achieve their exact desired smile. Have you ever wondered how all these celebrities have amazingly straight, white, and perfectly sized teeth? A lot of them can thank veneers.
Porcelain veneers are super thin layers of porcelain that are bonded to the front of your teeth to hide any imperfections. They can change your smile's color, shape, size, or length, so if your teeth are smaller than you'd like them to be, porcelain veneers will be able to reshape your smile to your exact specifications.
If you take good care of your veneers through proper oral hygiene, they can last for over a decade! You can brush and floss them just like natural teeth to make sure they remain clean. One of their biggest selling points is that dental porcelain is stain proof, so as long as you keep a good oral healthcare routine, they will look healthy, bright, and white for their whole lifespan.
How Can Veneers Benefit Me?
If you think your teeth are too small, or your teeth to gum ratio is off, the opportunity for a change in size probably peaks your interest the most. You can talk about your smile goals and what you'd like to achieve with your dentist. From there, they will make custom-made veneers based on how you want your smile to look. Your dentist will work with you to create porcelain veneers that are the right shape and length to make your teeth look bigger and more beautiful.
Along with changing your teeth's size, veneers can also help with:
Stains or discoloration
Small gaps or spacing in between teeth
Small chips or fractures
Misshapen teeth
Slight misalignment issues
Excessive wear
If porcelain veneers sound like something you could benefit from, contact your local cosmetic dentist to get started. Once you receive your treatment, you'll be able to smile with confidence knowing that your teeth's size is proportionate and that your mouth looks healthy and thriving.
Meet the Dentist
Dr. Asra Javeed is dedicated to helping you achieve your smile goals. She will discuss with you what you want out of your veneers, and then design them to meet your specifications. She currently practices at Smile Care Family Dentistry in Virginia Beach, where she can be contacted through her website or by phone at (757) 498-6420 for any questions.