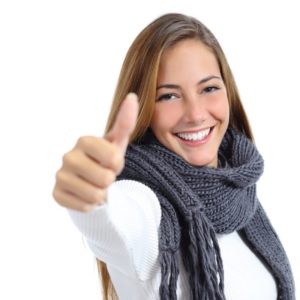 When you have a smile you're less than proud of, it can be difficult to accomplish anything with confidence. In fact, you probably feel embarrassed going about the simplest tasks like communicating with your bosses, sharing laughs with friends, and smiling in family photos.
If you're tired of hiding your teeth because of imperfections, you need to speak to a cosmetic dentist about porcelain veneers in Virginia Beach. You might just be the perfect candidate for this all-in-one smile fixing cosmetic procedure!
Are Porcelain Veneers Really Worth It?
Can you think of someone's smile that you're just obsessed with? Maybe it's a coworker, maybe it's a celebrity. Little do you know, many people with the "perfect" smile have probably invested in making their smile into the one of their dreams with porcelain veneers.
Porcelain veneers are thin sheets dental porcelain that fit over the very front of your teeth. A bit of your tooth enamel is shaved down to permanently fit them over your teeth, masking your most unwanted flaws for years to come.
If you have any doubts about what your smile has to offer, ask your local cosmetic dentist in Virginia Beach how porcelain veneers can help you cover these flaws:
Chips in your teeth
Discolored, stained teeth
Misaligned or crooked teeth
Cracks in your teeth
Spaced teeth
Eroded teeth
Unusually shaped teeth
After seeing everything that veneers can offer you, ask yourself, "Are they worth it?" Think about it. An initial investment now could lead to years of boosted confidence and healthier teeth!
Am I the Right Candidate for Porcelain Veneers?
If you're considering any cosmetic dentistry, you must ask yourself if your teeth and gums are truly healthy. After all, your oral health must be stable enough to uphold your cosmetic treatments and procedures for years. There are a few aspects of a patient's oral health that could make them a less than likely candidate for veneers. If you're considering getting veneers, ask yourself:
Are my gums in healthy, strong condition?
Will I commit to keeping my teeth and gums as healthy as possible?
Which are my most important smile goals?
What do I want to discuss with my dentist so that we can get on the same page?
Are you considering scheduling a cosmetic dentistry consultation? Asking yourself these simple questions is the best way to discover if porcelain veneers are the best treatment for you as well as prepare for your consultation with your dentist. Feel free to ask your dentist any other lingering questions you may have during your appointment with them.
If veneers aren't right for you, your dentist can explore other cosmetic options that may better suit your lifestyle and budget.
---
About Our Office
Here at Smile Care Family Dentistry, we care about your oral health just as much as your smile's aesthetics. Our team will work with you to reach your best oral health so that you can receive cosmetic treatments and procedures without any hang-ups.  If you have questions about how you can optimize your oral health and smile's beauty, feel free to contact our office!