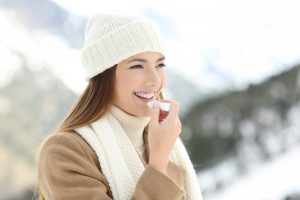 As the wintry weather rolls in, some particular oral health problems return each year. Struggles with sensitive teeth, dry mouth, and chapped lips elevate.
You don't have to be one of the many to endure these troubles. Read on for some tips from your dentist in Virginia Beach about combating winter mouth issues.
Tip 1: Apply Lip Balm Frequently
The skin on your lips is delicate and chaps easily, making it very susceptible to cold, dry air. Using a lip balm with SPF is important to protect your lips from the sun, even in the winter, and keep them moisturized.
Tip 2: Utilize a Humidifier
With less humidity in the air during the winter months, your skin is more prone to drying out and becoming cracked. Using a humidifier in your home adds extra moisture in the air to help keep your skin and lips healthy.
Tip 3: Switch to Toothpaste for Sensitive Teeth
If drinking hot cocoa or apple cider brings about sharp, short-duration pain in your teeth, you may have sensitive teeth. When your tooth enamel is weakened and breaks down, the layer below it – dentin – gets exposed to foods and beverages to cause discomfort. Cold temperatures can also be troublesome in this case. Using toothpaste for sensitive teeth protects exposed dentinal tubules from harm and makes ingesting items with hot or cold temperatures a more comfortable experience.
Tip 4: Drink Water Frequently
This is a good tip year-round, but especially in the winter. When you have an insufficient amount of saliva, it results in what is commonly referred to as "dry mouth." From taking certain types of medication to medical treatments like chemotherapy to smoking, there are a lot of causes of dry mouth. Dry winter air can exacerbate this issue, so it's crucial to drink plenty of water throughout the day. It will also help hydrate your skin and prevent chapped lips.
Tip 5: Keep Warm
Here's one that you would hopefully be attempting to do without being told. When you have temporomandibular joint (TMJ) disorder, wearing warm clothing can help control jaw pain, since your joints and muscles tense up in chilly weather. Simply staying warm helps reduce any clenching or tightening in the jaw area.
The winter season has its benefits, and a lot of people love the chilly weather. But just like in the summer, it's important to make smart decisions in the other extreme season so you aren't struggling with chapped lips and the other issues discussed here. These tips can help you set those issues aside and focus on the things you do enjoy about colder weather.
About the Practice
Dr. Asra Javeed believes that quality dental care should be offered in a friendly, caring environment. She earned her Doctor of Dental Medicine from Boston University. Dr. Javeed makes a concerted effort to stay up to date in a constantly evolving dental field by taking continuing education courses each year. Don't let the "beach" in Virginia Beach fool you, as average low temperatures in the winter do drop to 26 degrees each January. It is important to take precautions for your oral health when the forecast calls for winter weather. If you need a dental cleaning and exam or a more specific treatment, you can schedule an appointment on Dr. Javeed's website or call (757) 498-6420.