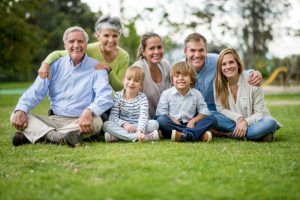 When you're looking for the right dentist in Virginia Beach there are a number of things to consider. Besides the obvious factors such as convenient location and office hours that work for your schedule, you also should consider if the dentist offers additional services that you may be interested in such as cosmetic dentistry, for example. If you have a family, you may want to consider if the office is child friendly. It doesn't hurt to ask the dentist and staff questions about the practice to determine if it's the best fit for your needs. The good news is that Dr. Asra Javeed is a premiere Virginia Beach dentist who specializes in meeting the needs of the entire family. Here's what you can expect to find at Smile Care Family Dentistry.
Family Dentistry
Dr. Javeed welcomes patients of all ages to her practice including the smallest ones! Because she's a mom herself, Dr. Javeed understands how important the first few visits to the dental office are and she strives to make them positive, upbeat and fun so your child will look forward to future visits.
At Smile Care Family Dentistry, we also provide high quality preventative care for adults and you will receive a thorough exam and screening from Dr. Javeed at every bi-annual visit. She will be watching for early signs of tooth decay, periodontal disease, and oral cancer in order to give you the best chance of successful treatment of these issues with the most conservative treatment.
Restorative Care
If your teeth are in need of repair or replacement Dr. Javeed offers a wide range of services to meet your needs. From composite resin fillings to all-porcelain crowns, Dr. Javeed uses only the highest quality dental materials. So you can trust that your restoration will be natural looking and complement your smile, while also giving you optimum function.
Cosmetic Dentistry
Dr. Javeed believes in keeping up to date with the latest technology and continuing education in order to offer her patients the most advanced services. She has had hundreds of hours of advanced training in the field of cosmetic dentistry so that she can help you achieve the smile you've always dreamed of. Whether you just want to give your smile a boost with whitening, or you want to completely change the appearance of your smile, Dr. Javeed has got you covered. The best place to start is a consultation with her so she can discuss your concerns and goals for your smile and then help you select the treatment that best fits your needs.
Smile Care Family Dentistry is a special place where we strive to treat you like family and we work to exceed your expectations at every visit to our office. We hope that you will consider making us your dental home. Call us today to schedule your appointment. We can't wait to meet you!