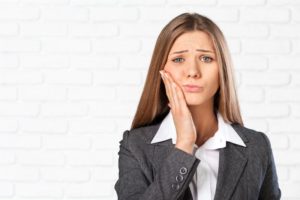 Dental emergencies are never fun, but one can happen when you least expect it. Your emergency dentist in Virginia Beach says not all dental emergencies are rated the same, though. Some forms of trauma require that you immediately head to your local emergency room. As you read on, find out which types of emergencies need urgent attention, and then learn what to do for some of the more common types of dental trauma.
Go to the Hospital if This Happens!
While there are typical ways to respond to most dental emergencies, the following two mishaps require a trained staff to provide urgent care in a hospital:
Profuse Oral Bleeding – A cut to any of the soft tissues in your mouth can result in blood loss. You can initially apply a cotton gauze to attempt to slow down the bleeding. If it persists for more than 10 minutes, then you should immediately head to the emergency room.
Acute Jaw Pain – If you have a bad fall or receive direct trauma to the face, you can suffer a severe jaw injury. In such a situation, you should go directly to the hospital for emergency care.
What Should I Do for Other Dental Emergencies?
There are other types of dental emergencies that can happen. While they will usually require the care of your dentist, you won't need to go to the hospital. However, there are certain things you should do for each to stabilize the situation.
A Severe Toothache
A toothache can be brought on by a bad break or advanced decay that has led to an infection. Sometimes, it can also be caused by something being caught in your teeth. For relief, start by gently flossing around the area where the pain persists. You can also take ibuprofen to lessen any pain and apply ice to the outside of your jaw to reduce any swelling.
Finally, be sure to contact your dentist's office to schedule a visit.
Knocked-Out Tooth
If you have a tooth knocked-out, after contacting a staff member at your dentist's office, you should carefully grab the digit by the crown – the wider portion – and reinsert it in its rightful place. If that isn't possible, then place the tooth in a cup of milk to preserve the roots.
Broken Temporary Crown
A temporary crown protects your tooth from the particles and bacteria that constantly bombard your mouth while you wait on a final restoration to be fabricated. Therefore, if the temporary crown is lost, your inner tooth is left vulnerable to a host of problems like rapid tooth decay and the development of gum disease.
If possible, do the following until you can be seen by your dentist:
Place a small dollop of dental wax or toothpaste on the fixture.
Carefully replace the lost piece.
Be sure not to chew food on that side of your mouth.
Even after you reinsert the missing piece, remember that this is a temporary solution; you still need to contact your emergency dentist to schedule a visit.
Something Wedged Between the Teeth
Having an item wedged between your teeth can trigger painful sensations. The first step for relief is to carefully floss around the affected area to attempt to remove the item. You can also gargle with a salt-water solution to help dislodge the object.
While a dental emergency can be a nuisance, by applying what you've learned here and not hesitating to reach out to your Virginia Beach emergency dentist, you can soon fully recover and move on with your life.
About the Author
Dr. Asra Javeed earned her dental degree from Boston University School of Dental Medicine. An award-winning dentist, she has remained a life-long learner, taking continuing education courses annually to stay abreast of the latest changes in dentistry. An expert in oral pathology, Dr. Javeed helps patients recover from dental emergencies at Smile Care Family Dentistry, and she can be reached for more information through her website.