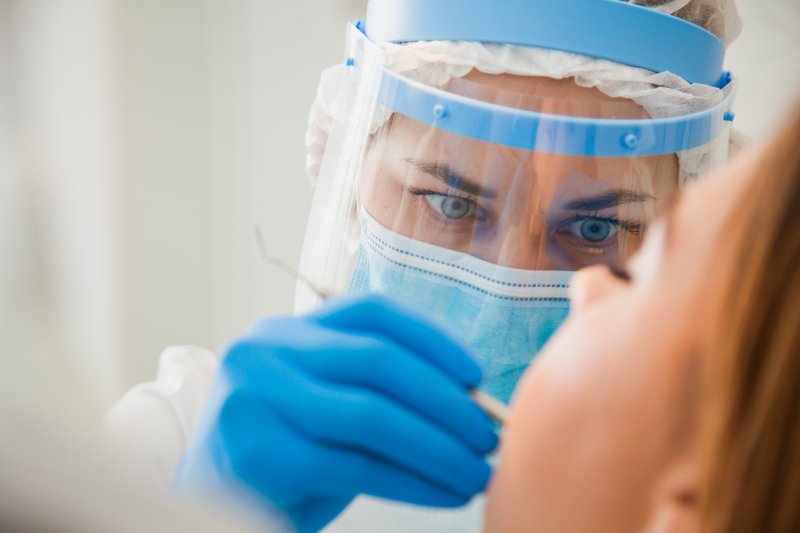 Just think about how much our lives have changed in the past year. Whether you are going to the grocery store, contacting family members, or working on earning your college degree, things are looking a lot different that they have before. This includes your visits to the dental office every six-months for regular checkups. In order to help keep patients and team members safe during this time, numerous new protocols are being implemented. Continue reading so you can learn what to expect when it comes to dentistry during COVID-19.
Before Your Appointment
The following precautions are being taken before your appointment begins in order to prepare for your visit:
Daily Team Health Checks
When the team comes into the office each day, they are given a no-touch temperature check and asked to answer a quick set of questions. This way, it is known that the team is ready, willing, and able to provide safe dental care.
Patient Pre-Screening
Before the start of appointments, patients are asked to complete a health questionnaire and consent form along with a no-touch temperature check upon arrival to the office.
Sequenced Patient Scheduling
In order to limit unnecessary contact between patients and allow for extra time to clean the office, appointments are being scheduled further apart. This helps the entire process to happen more smoothly.
During Your Appointment
Here are some of the changes you may notice during your next dental appointment:
Anti-Microbial Rinse
In addition to brushing and flossing before the start of an appointment, patients will be asked to use an Oracare solution in order to reduce the number of bacteria in the mouth. This will be provided upon arrival to the practice.
Social Distancing
Just like everywhere else you have been going, social distancing will be enforced at the practice. There will be fewer chairs in the reception area, helpful signs, and one-way traffic in the treatment area. This help to make staying six feet apart more achievable.
Additional PPE
The clinical team always wears PPE in order to prevent the spread of germs from one person to another. Now, there is even more. Face shield, disposable hats and coats, and different masks will be used for even more protection than before.
After Your Appointment
All instruments, equipment, and surfaces are wiped, sanitized, and disinfected after every single patient leaves the office. Along with cleaning and sanitizing during the day, the staff clean the office top-to-bottom in the evenings after all patients go home.
Even though we are living in uncertain times, one thing is for sure. When you are at the dental office. You are in good, clean hands!
About the Author
Dr. Asra Javeed earned her Doctor of Dental Medicine from Boston University School of Dental Medicine and is committed to completing continuing education courses in order to keep her knowledge and skills sharp. Her dental team is taking numerous new safety protocols in order to keep the office as COVID-19 free as possible. For more information or to schedule an appointment at her practice in Virginia Beach, visit her website or call (757) 498-6420.