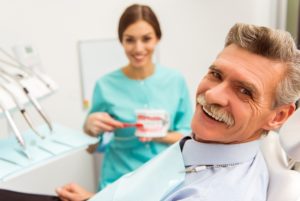 Over the years, you had never expected to lose your teeth, but that is exactly what has occurred, whether due to disease, poor dental hygiene, or trauma. No matter the cause, you need an effective form of tooth replacement to regain a complete and functional smile. Now, several advancements in dentistry offer various solutions, including dentures and dental implants. With both offering several benefits, your dentist in Virginia Beach will help you determine which is the right choice for you.

Get the Convenience of Dentures
Dentures have been used for more than 100 years to replace missing teeth because they are affordable and convenient. Although they have a bad reputation for looking and feeling fake, advancements now allow them to closely mimic natural teeth.
A custom-made acrylic arch is created using impressions of your mouth. Prosthetic teeth are featured in the gum-colored base, which is held in place using a denture adhesive. No surgery is required and you will have a complete smile in just a few short appointments.
When compared to dental implants, they are more affordable upfront. However, they do require more up-keep and care. You will need to take the time to clean and soak them each day. They also require maintenance with adjustments and new dentures must be made every few years.
Although advancements have been made to promote their comfort and fit, they will never truly feel like real teeth. Over time, you may experience slipping and irritation; however, you can replace your teeth without surgery or a lengthy treatment process.
Benefit from a Long-Term Solution
As an alternative to dentures in Virginia Beach, many are choosing dental implants. This involves surgically placing dental implant posts into the jawbone. This adds security and stability that is not possible with traditional dentures. As a result, they are the only dental prosthetic to most closely mimic the function and appearance of natural teeth.
In addition, they can help to preserve your jawbone density by keeping it stimulated. They can also potentially last for a lifetime with the right care, such as proper oral hygiene and regular appointments with your dentist. Overall, they offer a 95% success rate.
While they are effective, they are not right for everyone. They do tend to cost more and are not covered under most dental insurances. In addition, it does require surgery and a lengthy treatment process. However, they allow you to make a true investment in your quality of life and oral health as a long-term solution.
Complete Your Smile Today
Choosing the best option to replace your missing teeth is not a decision that should be made in haste. After an evaluation, your dentist will help to determine the best solution for your individual needs and lifestyle.
About Dr. Asra Javeed
Dr. Asra Javeed is committed to providing excellent dental care in a friendly and caring environment. Supported by extensive training and many recognitions for her quality services, she uses the most advanced technology to promote and restore oral health. If you have any questions about your options to replace your missing teeth, contact Smile Care Family Dentistry to schedule a consultation.