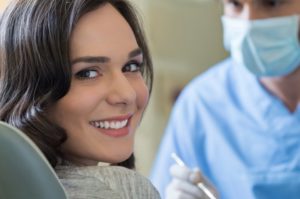 The holidays are coming! You know what that means, right? A new year is on its way! With the days we're facing now, it's more important than ever to take advantage of your insurance benefits before they reset with 2018.
If you need a dentist in Virginia Beach that's in-network, you should find one before the end of the year. This blog post explains why!
Understanding Dental Insurance
Many patients may not understand the difference between dental insurance and medical insurance. Dental benefits are all about stopping problems before they begin. For example, they encourage patients to routinely bring their children to the dentist for exams, dental cleanings, fluoride treatments and dental sealants. Medical insurance focuses less on prevention and puts more resources toward covering the costly consequences of injury and illness after they occur.
Medical insurance is more centered around addressing problems when they occur, not prevention. This increases the overall cost of medical coverage.
Take Advantage of Benefits Before the Year Ends
You've paid your insurance premiums all year long. That means you've paid your dues to earn your dental benefits. Unused benefits are forfeited, and if you decide you need dental care in January or February, you'll be starting your deductible payments all over again. Your yearly deductible is the amount of money that you must pay to your dentist out of pocket before your insurance company will pay for any services. This fee varies from one plan to another and could be higher if you choose an out-of-network dentist. Your deductible also starts again when your plan rolls over. It's best to get into your nearest dental office as soon as possible.
There Are a Few Reasons to Use Dental Benefits
Have you had your twice-annual oral checkups this year? Most dental insurance plans cover 100 percent of preventive care. That's because preventive care is crucial to maintaining excellent oral hygiene, which is also key to good overall health. You can expect this exceptional care at your preventive appointments:
A complete diagnostic
Your dentist will use dental x-rays to look at the internal and external structures of each patient's mouth. This could help keep a smile stronger for longer.
Visual examinations
Our dentists can recognize dental health problems earlier on than someone with an untrained eye. Your dentist carefully examines each patient's smile for signs of tooth decay, gum disease, teeth grinding, and oral cancer.
Professional cleanings
After your checkup, your dentist will thoroughly clean between and along every tooth. The point of a professional cleaning is to remove hardened plaque, bacteria, and other debris that's impossible to remove during your daily dental routine. These cleaning significantly reduce your chances of developing serious diseases, decay, and tooth loss.
Custom treatment planning
Each patient consults with your dentist to review their dental appointment. You will discuss any findings your dentist may have noticed and develop a dental treatment plan personalized just for you.
Can you believe all of this is covered by dental insurance? Take control of your oral health by practicing preventive care with a local Virginia Beach dentist that's in your network.
---
About Our Office
Smile Care Family Dentistry believes in providing our patients with lots of options, but there's one you shouldn't have to choose from: deciding between dental care that you need and the dental care that you can actually afford. That's why we work with each patient to discover which payment option is best for you and discuss accepted dental health care insurance plans.