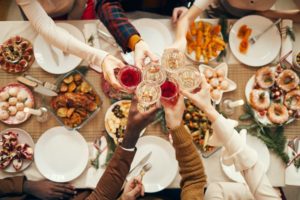 Even though you like visiting your dentist in Virginia Beach, you'd rather not let an unexpected visit get in the way of your holiday plans with your family and friends. As you're preparing for everyone's arrival, there are countless things that could go wrong, including you forgetting to take proper care of your mouth and address any out-of-the-ordinary symptoms because you're so busy. Instead of letting toothaches and dental sensitivity get in your way, follow these oral health tips from your dentist.
Common Oral Health Problems
Many oral health problems are easily preventable if your mouth is being properly cared for. However, over the holidays, your schedule can drastically change, and your massive to-do list can cause your teeth and gums to shift to the bottom of your priority list. There are two common oral conditions that can impact your overall mouth health and become more serious without the proper treatment. These are:
Tooth decay, or cavities, are caused when your enamel becomes eroded by acid produced by harmful oral bacteria. While cavities are highly preventable, over 90 percent of adults in the United States have had at least one, according to the Centers for Disease Control and Prevention. They can cause dental sensitivity and leave the more vulnerable inner portion of your mouth at risk for infection.
Gum disease is a quickly progressing infection of the gums that causes a laundry list of symptoms that impacts the oral tissues and bone that support your teeth. The beginning stages are referred to as gingivitis, causing inflamed, swollen, and bleeding gums when you brush. When it's left to advance, it becomes known as periodontitis, which can result in gum recession and tooth loss.
With the proper preventive measures in place, you can keep these common problems from developing over the holidays.
Tips to Keep Your Mouth Healthy Over the Holidays
Keeping your mouth healthy is important, especially during a time of year when you'll be eating more sweets than normal. The best way to prevent food debris and bacteria buildup is to continue brushing and flossing like you normally would. Even if you have countless tasks on your to-do list, always be sure to make time for your dental hygiene routine. Here are some other tips for a healthy smile during the holidays:
Stay hydrated with water.
Rinse with antibacterial mouthwash daily.
Maintain a nutritious diet.
Visit your dentist in Virginia Beach for a checkup and cleaning.
With these tips in your pocket, you'll be able to avoid any unexpected visits to your dentist and get the most out of your family time. Not to mention, they're great tools to maintain the health of your teeth and gums throughout the rest of the year too!
About the Author
Dr. Asra Javeed is passionate about giving each of her patients the highest quality of preventive dental care possible. She understands the connection between her patients' mouths and overall health, which is why she goes out of her way to provide everyone that walks through her doors with the tools and treatment they need to optimize their oral health. She also believes in staying up-to-date with the latest technological advancements in dentistry, which is why she equips her office with gadgets such as digital imaging and intra-oral cameras. For questions or to schedule a routine checkup and cleaning, visit Smile Care Family Dentistry's website or call 757-498-6420.