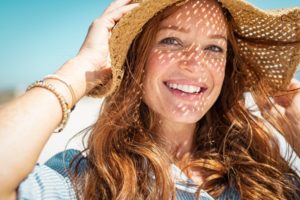 You've been looking forward to this family vacation for months now. You've packed your swimsuit. You bought a new phone with a fancy camera for sightseeing. You've picked up on some of the local lingo. But what if you get a toothache that ruins everything? It's hard to focus on having a great time when your mouth is in pain. A dentist is here to talk about 5 tips for keeping your mouth healthy while you're on vacation this summer.
1. Visit Your Dentist Before You Leave
It's a good idea to see your family dentist before you leave for vacation, especially if it's been a while since your last checkup. This way, your dentist can make sure everything is right with your teeth before you go. If you have an unnoticed cavity, it could randomly cause severe pain over your trip. Make sure to schedule your appointment at least a couple weeks before you leave, so that way there is time for extra treatment if needed.
2. Stick to a Routine
Just because you're in a new place doesn't mean you should neglect your oral hygiene routine. Make sure to brush every morning and every night, and floss every day before bed. Skipping out on doing these things can increase your chance of a toothache putting a real damper on your trip.
3. Watch What You Eat
Most of us ignore our diets while we're on vacation and eat and drink more sugar than we normally do. This can hurt our teeth. If you're going to indulge in sugary drinks or cocktails, try using a straw. This way, the drink bypasses your teeth, minimizing damage.
4. Pack Everything You Need
It's easy to forget packing a toothbrush and toothpaste while we're busy worrying about our passport or our swimsuit. Remember to also pack floss and mouthwash to keep your mouth extra clean. If you are going to a sunny area, be sure to pack sunscreen for your lips. Sunburns on your lips can increase your chance of oral cancer. Make sure you are protected.
5. Avoid Following Dental Care Myths
There are some dental myths out there that can do more harm than good. Some of these include:
Mouthwash is a good substitute for brushing.
You only need to brush once a day.
Charcoal brushing is as good as toothpaste.
A twig is a good substitute for a normal brush.
Not only are all of these false, but they can hurt your teeth in the process. Be sure to stick to a normal oral hygiene routine. That, and following these other tips, are a great way to make sure your mouth has a great vacation along with the rest of you!
About the Author
Dr. Asra Javeed completed her Doctor of Dental Medicine degree from Boston University School of Dental Medicine. She was elected to the Omicron Kappa Upsilon Honorary Dental Society and has received numerous awards for her expertise in oral pathology. For info about how she can help prepare your teeth for a vacation, click here or call (757)-498-6420.