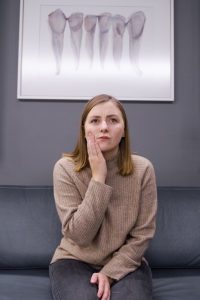 Although no one ever expects it to happen to them, dental emergencies are common. In fact, 1 in 6 Americans requires urgent dental attention annually. If you find yourself in this unfortunate situation, you might hesitate to contact your dentist because you're worried about a large bill; however, as with any emergency, time is of the utmost importance. You don't want to lose valuable minutes stressing about finances. If you have dental insurance, there isn't any reason to fret. You can get the immediate care you need without breaking the bank.
What's Considered a Dental Emergency?
An oral health emergency can come in many forms, making it difficult to decipher which issues warrant a trip to your dentist. While every case is unique, the most frequent dental emergencies include:
Knocked-out tooth
Dislodged tooth
Toothache
Object stuck between teeth
Chipped or broken tooth
Lost filling or crown
Broken denture or partial
No matter the problem, it's best to contact your dentist right away to prevent the issue from worsening.
Can I Use My Dental Insurance for Emergency Services?
Every dental insurance policy differs, but most plans offer coverage for emergency services after paying your monthly premiums. You can use your benefits to lower the amount you need to pay for certain steps in your treatment, like the consultation or X-rays. Depending on the services needed, your policy can pay as much as 80% of the cost after reaching your yearly deductible. You can use your annual allowance to pay a portion of the expense for common treatments, like root canal therapy or tooth extractions.
Your dentist will work on your behalf with your insurance company to file the necessary claim forms to maximize your annual benefits. They'll explain how your coverage is being used and if you owe a remaining balance.
How Much Does Emergency Dentistry Cost?
There isn't a predetermined rate for emergency services because the cost is based on your specific needs. Your dentist will provide you with a personalized estimate during your consultation and explain the fees associated with your plan. You'll know exactly what you'll need to pay before moving forward with any treatment.
Besides using your dental insurance, there are several ways to keep your care affordable. In addition to traditional payment methods, many dentists accept third-party financing. Based on your credit's approval, you'll be given the funds you need, which you'll repay using a plan that fits your budget.
A dental emergency is stressful enough without having to worry about paying an unexpected bill. Don't let the cost of visiting your dentist deter you from scheduling an appointment. They offer the solutions you need to save your smile without draining your wallet.
About Dr. Asra Javeed
Dr. Javeed provides complete services under one roof, including emergency dentistry. In addition to earning her dental degree from Boston University School of Dental Medicine, she has undergone advanced training in many specialties, like oral pathology. Contact our office today to schedule your consultation with an award-winning emergency dentist.