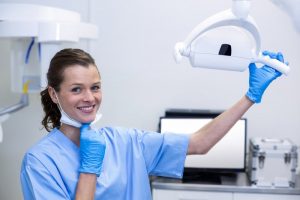 Many patients don't realize exactly how much their dental assistants do, because it's always behind-the-scenes. The first week of March is Dental Assistant Recognition Week, which means that there's no better time to appreciate just how much effort, time, and care they put into making sure that each of your appointments goes smoothly. Read on to learn four reasons to appreciate your dental assistants even more than you already do, and how you can show them that you care!
Preparing & Cleaning the Treatment Rooms
Have you ever walked into a treatment room and thought, "Wow, this is so clean"? That's all thanks to the dental assistant who sanitized, set up, and thoroughly cleaned the room before you even arrive to the office. They're constantly working hard to prepare for your visit to make sure that everything runs as smoothly as possible. Then, after you leave, they'll be responsible for cleaning everything up and following several important COVID-19 safety protocols to make their next patient's appointment seamless and safe.
Assisting the Dentist During Procedures
You may or may not have noticed that a dental assistant is sitting right next to you while you're receiving a filling, getting a chipped tooth fixed with dental bonding, or handing rinsing and suction gadgets to your dental hygienist during your cleaning. At each of your appointments, they make sure that the dentist isn't left to fumble around the room trying to find the items they need by staying on-top of the situation.
Managing the Office
In addition to helping in the treatment rooms, they're also responsible for managing the front office. They plan the daily appointment schedules, submit insurance claims to help maximize your benefits, order supplies, and answer the phones each time you call. They're some of the best multi-taskers around!
Helping You Feel Comfortable & Cared-For
Finally, if you're feeling anxious or uneasy about visiting the dentist, your dental assistant is there to help you feel more comfortable by answering any questions you have and starting up a conversation to get your mind off of the sights and sounds of the office that can be overstimulating.
What Can You Do to Celebrate Dental Assistant Recognition Week?
If you have a dental appointment this March, recognize your dental assistants by bringing them something special to show them you appreciate all of their hard work! Here are a few ideas:
A gift card to a store or a local car wash
A subscription to an audio book service
Cater lunch for the team
Upgrade the office coffee machine or microwave
A magazine subscription
Since you know your dental assistant best from talking to them each time you visit your dentist's office, you'll know what they'll appreciate the most. By showing that you see all of the hard work they put in on a daily basis, you'll be able to truly help them feel appreciated.
About the Author
Dr. Asra Javeed understands that she couldn't provide the outstanding treatment results and care that she does without her experienced team of dental assistants, front desk workers, and hygienists by her side. She truly appreciates her staff and understands how much they put into making each of their patient's experiences enjoyable and special. For questions or to schedule an appointment, visit Smile Care Family Dentistry's website or call 757-498-6420.