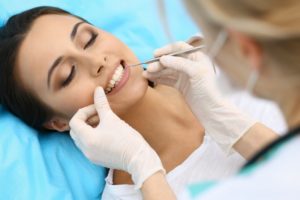 You and your friends are preparing for one last summer getaway before heading back to college. You've spent all summer hiding your smile from the camera and instead, tried to ignore the fact that you're unhappy with your smile. You want to do something about it before you leave in a few weeks, but you aren't sure how to go about finding the right cosmetic dentist in Virginia Beach. To help you, check out these 4 questions you should be asking prospective clinicians before seeking treatment.
1.      How Long Has the Dentist Been Practicing?
It's highly unlikely that you're going to trust your teeth and gums with someone who either has no experience or very little. A clear indicator of a good cosmetic dentist is someone who has been practicing for many years – an individual who can prove their work is of the highest caliber. Just because a dentist in Virginia Beach lists cosmetic dentistry as one of the services offered doesn't mean they have enough experience to offer transformative results. Make sure the professional you see has proven experience and skill.
2.      What Options Are Available?
If you want more than just a whitening session, you're better off finding a cosmetic dentist who offers a variety of treatments. Everything from porcelain veneers, teeth whitening, Invisalign, cosmetic bonding, and even gum recontouring are considered cosmetic services, so if you're in the market for someone who can deliver results using a variety of techniques, make sure you do your research to see who offers the greatest options.
3.      What Kinds of Technology Will Be Used?
Whether you're pursuing cosmetic or any other type of dentistry service, the type of technology used by the dentist is crucial. Do you want someone who incorporates new methods, tools, and equipment into their treatment plan or a dental professional who prefers the traditional method of doing things? Dental technology has made it possible for cosmetic dentists to offer more accurate, detailed treatments while performing quicker and more comfortable procedures for patients. Take the time to review their list of advanced technologies and find out which ones are used for different types of treatments.
4.      Can You Ensure My Results Will Look Natural?
No one wants their cosmetic procedure to look fake or unnatural, and in the past, patients were left with unrealistic results. An example of this would be the famous "chiclet teeth" look was associated with poorly placed porcelain veneers. Remember, treatments that are focused on improving a patient's aesthetics requires serious skill and artistry, so don't just take a dentist's word that they offer natural-looking results. Ask for case studies, so you can see before and after photos of satisfied patients.
Depending on the type of treatment you pursue, you may be spending more time with this cosmetic dentist than you originally expected. Only very few procedures require one appointment, so you want to make sure your partnership is one that is positive and creates beautiful results. Your teeth and gums are too important to just take a chance. Take your time and choose a cosmetic dentist that is right for you.
About the Author
Dr. Asra Javeed received her Doctor of Dental Medicine degree from Boston University School of Dental Medicine. She has received various awards for her accomplishments, including her expertise in oral pathology and her clinical and academic pursuits. A firm believer in transparency and offering her patients the best possible care, Dr. Javeed uses the latest advancements in modern dentistry to craft personalized treatment plans and perform various procedures with great precision. Offering preventive, restorative, and even cosmetic dentistry services, she is ready to help you achieve a new and improved smile. For questions about our services, visit our website or call (757) 498-6420.